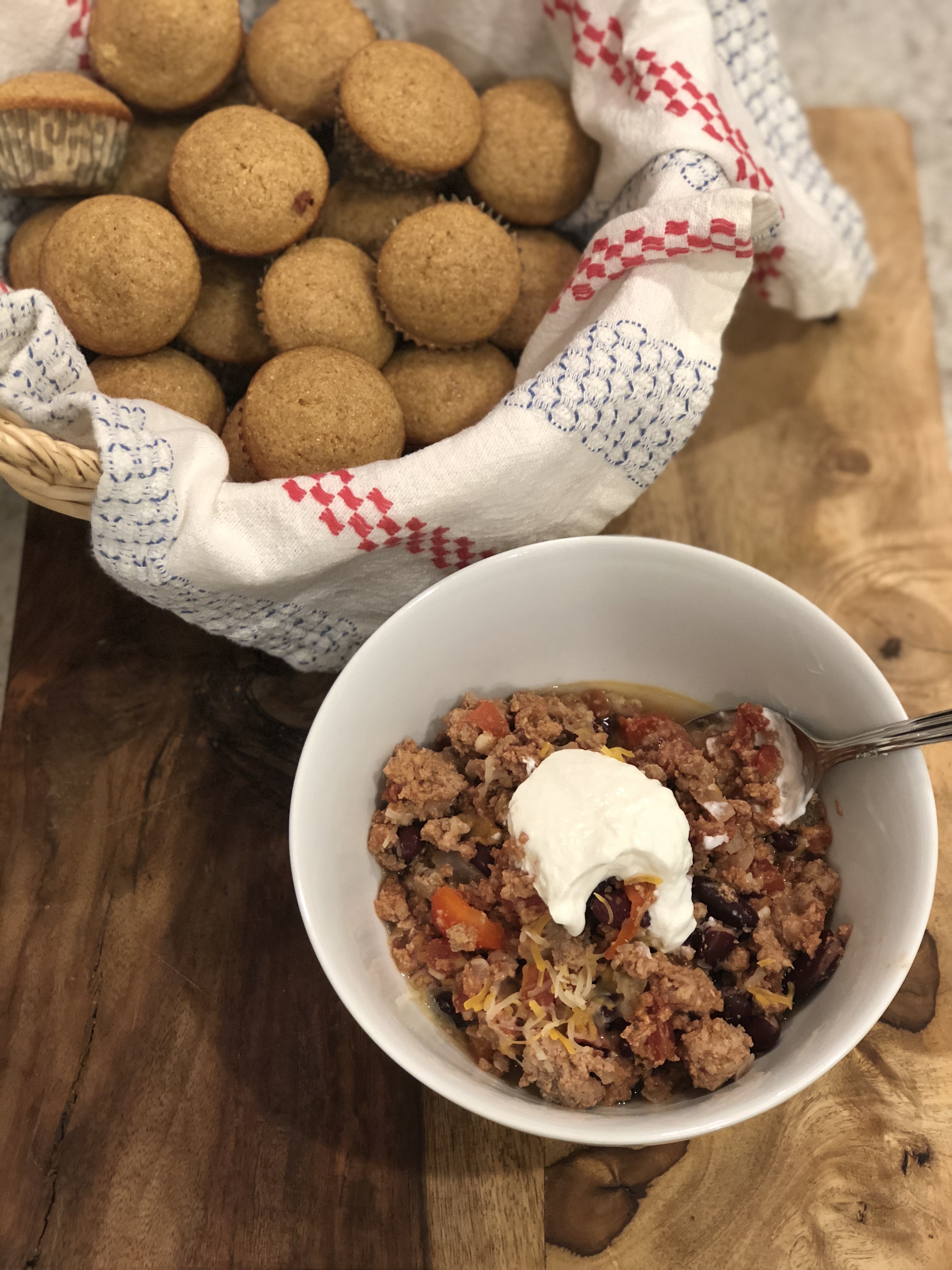 Tis the season to have your house smelling like goodness! Sundays are slowly becoming my favorite day of the week. Sundays are my food shopping, meal prepping, and cooking those meals that make the whole house taste like one big meal day 🙂 Ground turkey chili with healthy corn muffins falls right in that category.
Chili is one of the funnest meals you can make because you can basically put anything you want in it and it will taste amazing! I usually make the base of my chili the same, but depending what extras I have in the house I'll end up throwing them in. I have yet to find a chili I do not like.
What to make chili in
You can make chili in a bunch of different pots or dishes. I just so happen to make today's chili in a dutch oven. I like dutch ovens because they tend to get super hot and hence keep your meal super hot and when you have kids most of your meals might end up being cold when you eat them 🙂 So, this helps me and the hubs out in that way, a lot! Next, what goes better with chili then a side of corn muffins? not much....... 😉
I also love topping my chili with sour cream, but we all know sour cream unfortunately isn't the best for you. Incoming, plain greek yogurt! I honestly find that the two taste the same. Even Eric (hubs) agrees with me! He is a brutally honest person by the way. Also, I top mine with reduced fat shredded cheese, usually the taco seasoning mix or Mexican or even just cheddar (depending what I have on hand). For those of you that know me know this is super true about me because I HATE wasting food so it takes a lot for me to ever throw any unused food away, which is why I just use whatever yellow cheese I have in the house.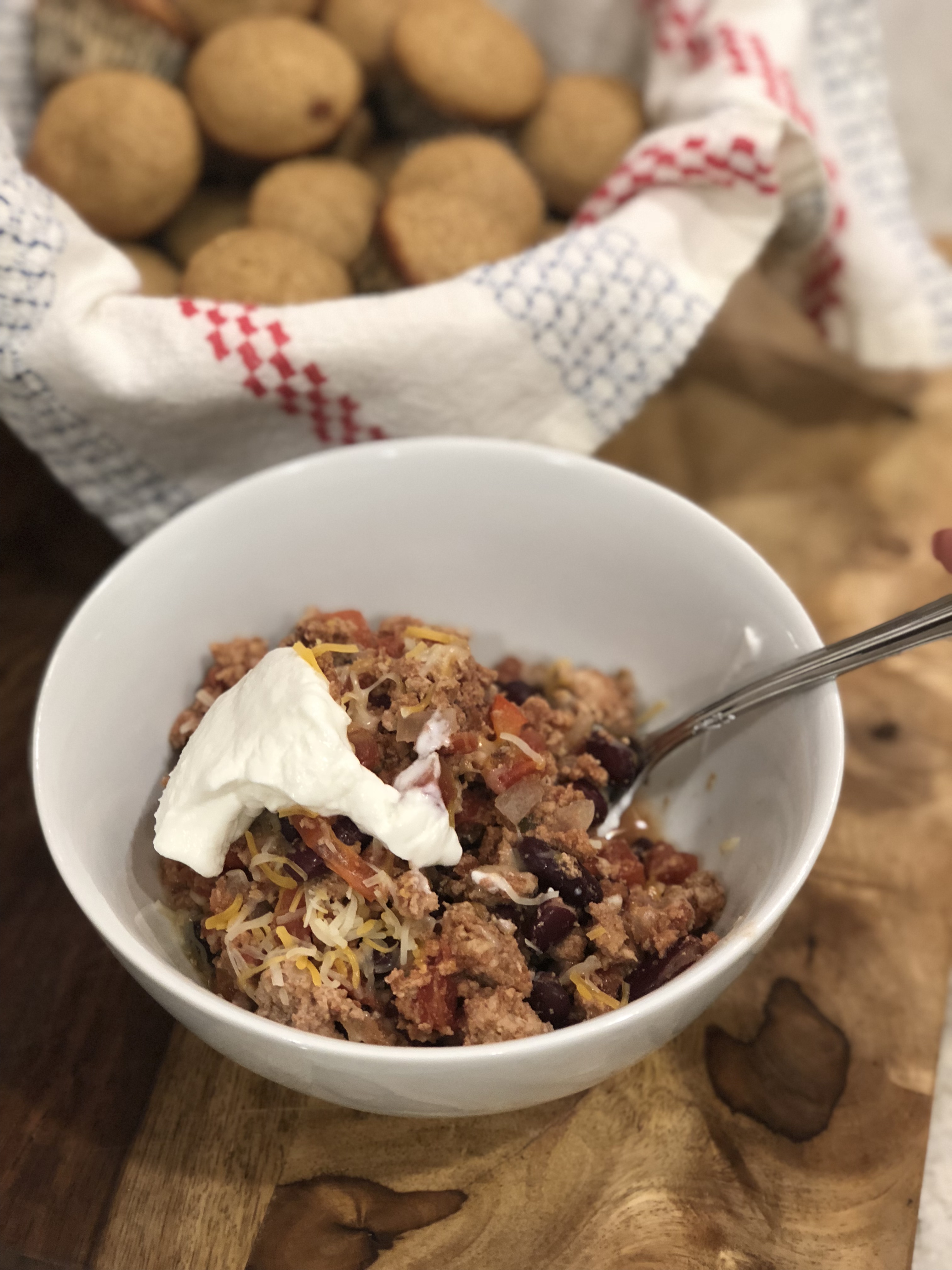 How to make turkey chili
Step 1 - Start off by chopping the peppers, onions, and garlic. Throw them into the pot first with olive oil and cook until translucent, about 5 to 6 minutes.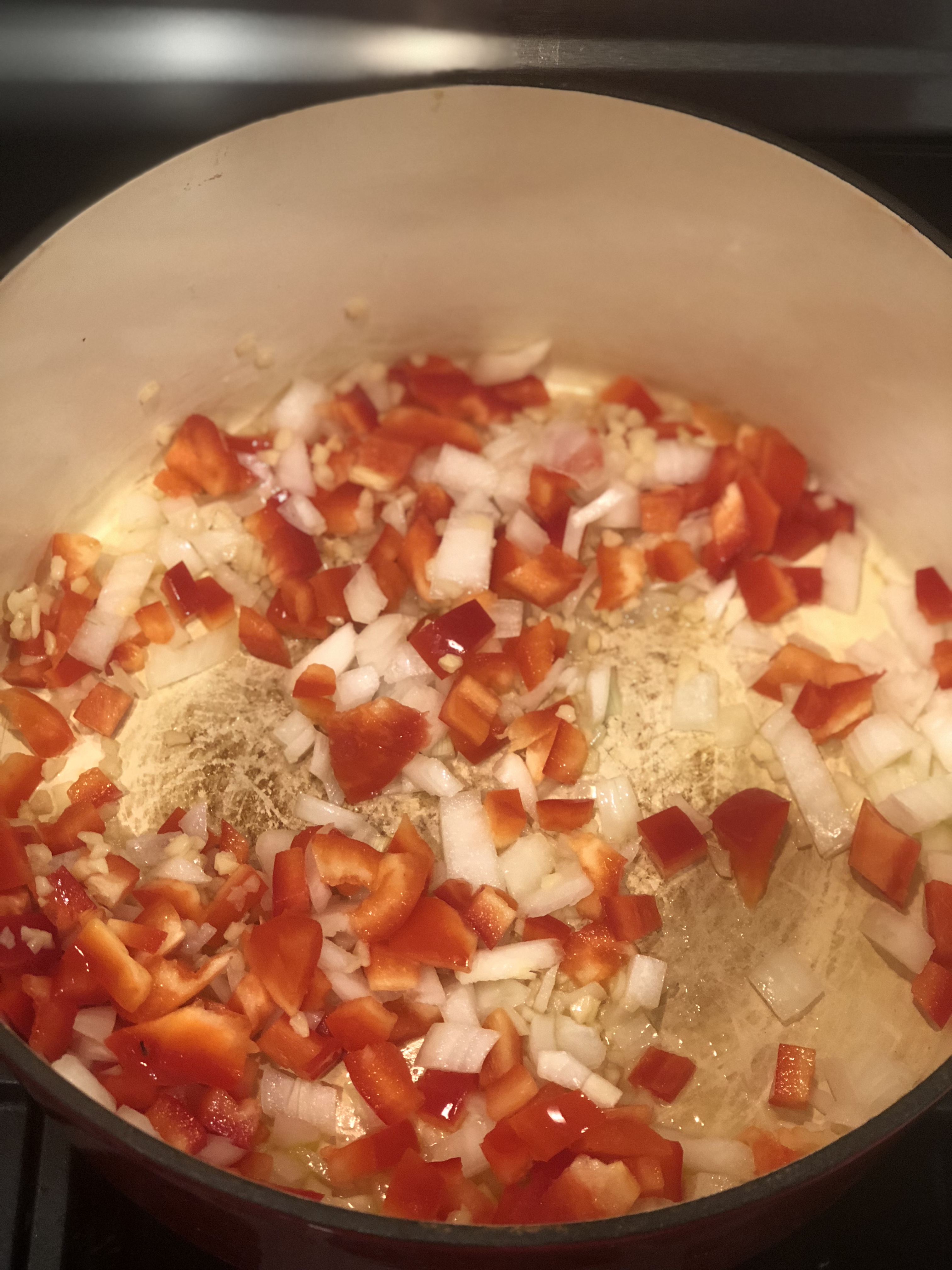 Step 2 - Remove the veggies from the pot and set them aside. Next, toss in your ground turkey and cook until it is no longer pink. Drain and return to the pot alone with the veggies. Mix to combine.
Step 3 - Next, add all your seasonings in and the can of red kidney beans. Cook for another 4 to 5 minutes. Then, add in your diced tomatoes, Worcestershire sauce, and salsa.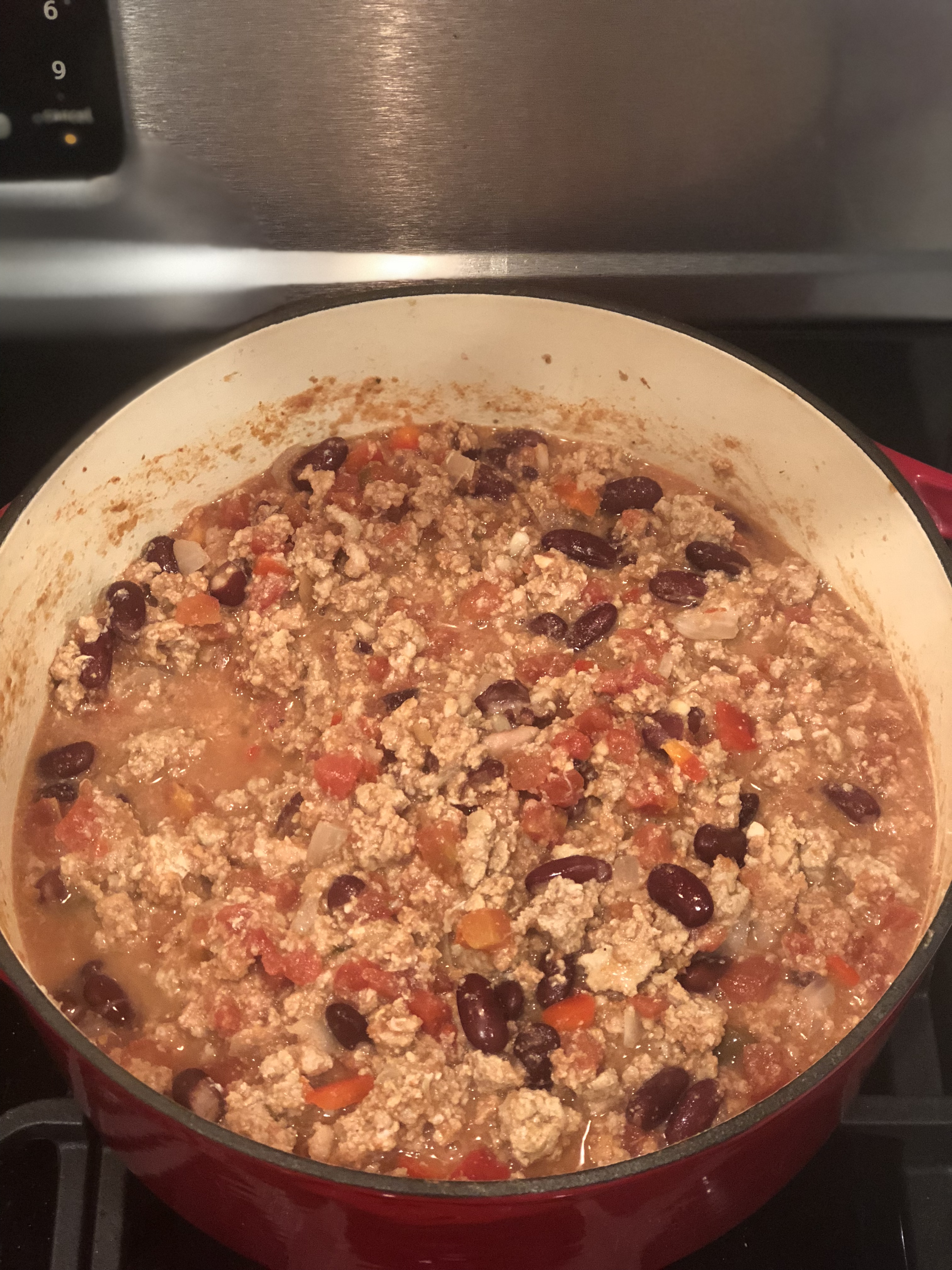 Step 4 - cover and let simmer for 15 to 20 minutes. Stirring occasionally!
Ingredients for this dish
½ a spanish onion, chopped
1 red bell pepper, chopped
3 garlic cloves, minced
1 tbsp. olive oil
15 oz can of red kidney beans (low-sodium and drained)
a pound and ½ of ground turkey
28 oz can of diced tomatoes (I use Cento brand) or two 14.5 oz cans
1 tbsp chili powder
2 tbsp. cumin
1 tbsp onion powder
1 tbsp. garlic powder
1 tsp. himalayan salt
1 tsp. ground black pepper
1 tsp. paprika
1 tsp. oregano
¼ cup of Worcestershire sauce
½ cup salsa
container of plain greek yogurt for topping
1 package of reduced fat shredded yellow cheese of choice
How do make this meal
Heat a dutch oven or large pot to medium heat and add olive oil.
Add pepper, onion, and garlic and cook until translucent, about 8 min.
Add ground turkey and cook until browned. Stir in the seasonings.
Add the kidney beans and cook until softened, about 5 min.
Next, add Worcestershire sauce, diced tomatoes, and salsa. Toss to combine. Cover and let simmer for about 20 min. to soak up all the flavors.
Serve topped with cheese and plain greek yogurt.
How to make healthy corn muffins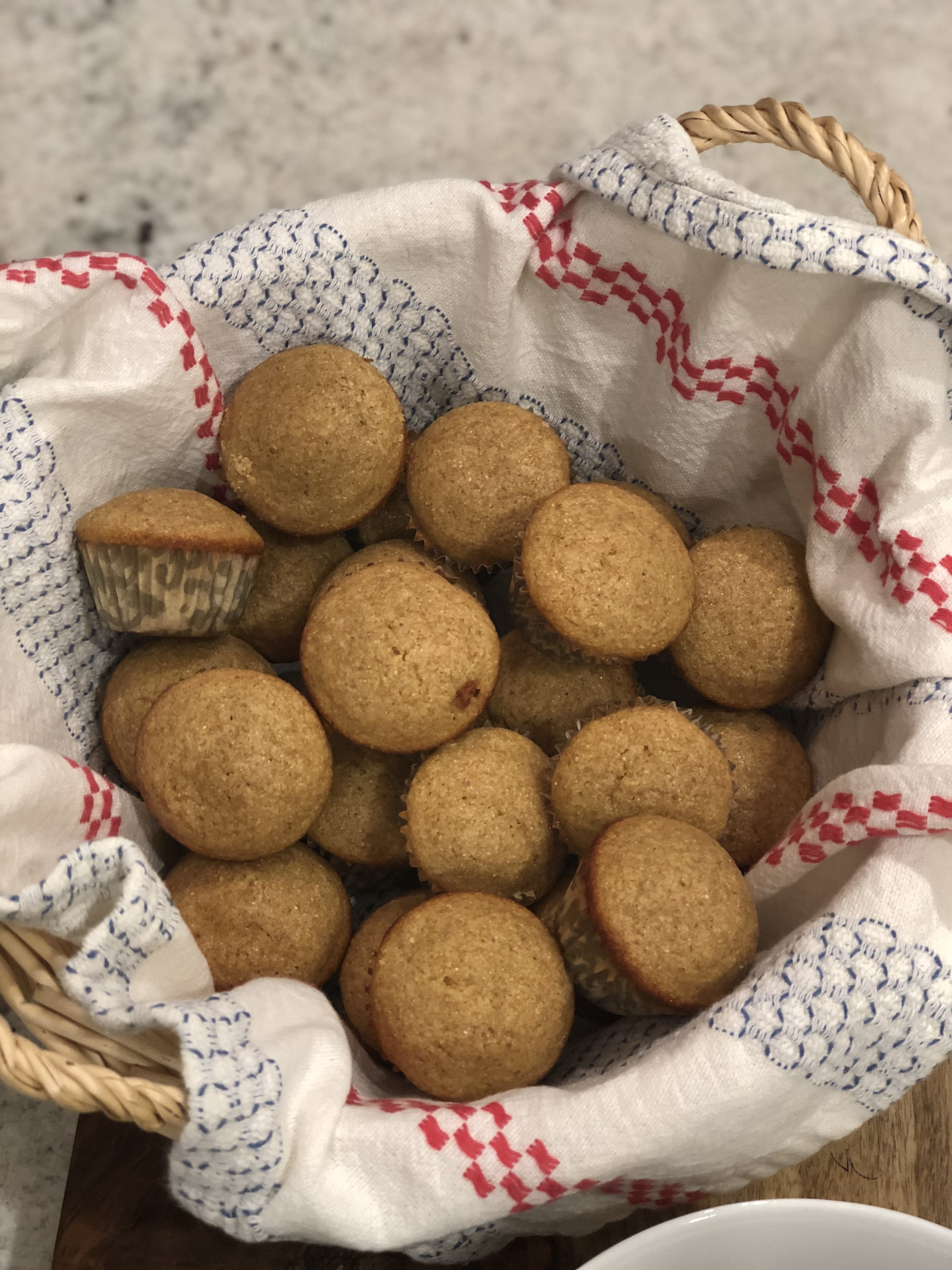 Here's what you will need!
1 cup whole wheat flour or almond flour
1 cup cornmeal
½ tsp. kosher salt
2 tsp. baking powder
1 egg
1 cup nut milk of your choice
⅓ cup olive oil
⅓ cup honey
Cooking Spray
Directions for these corn muffins
Preheat oven to 400°.
Combine flour, cornmeal, salt, and baking powder in large bowl.
Stir in egg, milk, oil, and honey. Mix to combine.
Spray a muffin tin with cooking spray. Pour batter into mini muffin container ( you can do regular size if you want)
Bake 15 to 20 minutes!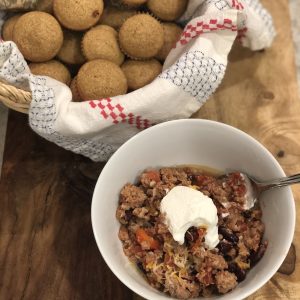 Ground Turkey Chili with Healthy Corn Muffins!
The tastiest chili you will ever eat with a side of warm, sweet, mini corn muffins made in a healthy way!
Print
Pin
Rate
Ingredients
½

cup

onion

chopped

1

small

red bell pepper

diced

3

garlic cloves

minced

1

tbsp

olive oil

1

15 oz

can red kidney beans

rinsed and drained

1½

lbs

ground turkey

1

28 oz

can of diced tomatoes

I like Cento brand

1

tsp

chili powder

1

tsp

onion powder

1

tsp

garlic powder

1

tsp

kosher salt

1

tsp

ground black pepper

1

tsp

paprika

1

tsp

oregano

1

tbsp

cumin

¼

cup

Worcestershire sauce

½

cup

salsa

plain greek yogurt

optional topping

reduced-fat shredded cheddar

optional topping
Instructions
Heat a dutch oven or large pot to medium heat and add olive oil. Add pepper, onion, and garlic and cook until translucent, about 5 min. Remove from pot and set aside.

Next, add ground turkey and cook until browned. Drain and return to pot along with the veggies.

Stir in the seasonings and add the kidney beans and cook until softened, about 5 min.

Next, add Worcestershire sauce, diced tomatoes, and salsa. Stir to combine. Cover and let simmer for about 20 minutes to soak up all the flavors.

Serve topped with cheese and plain greek yogurt (optional)