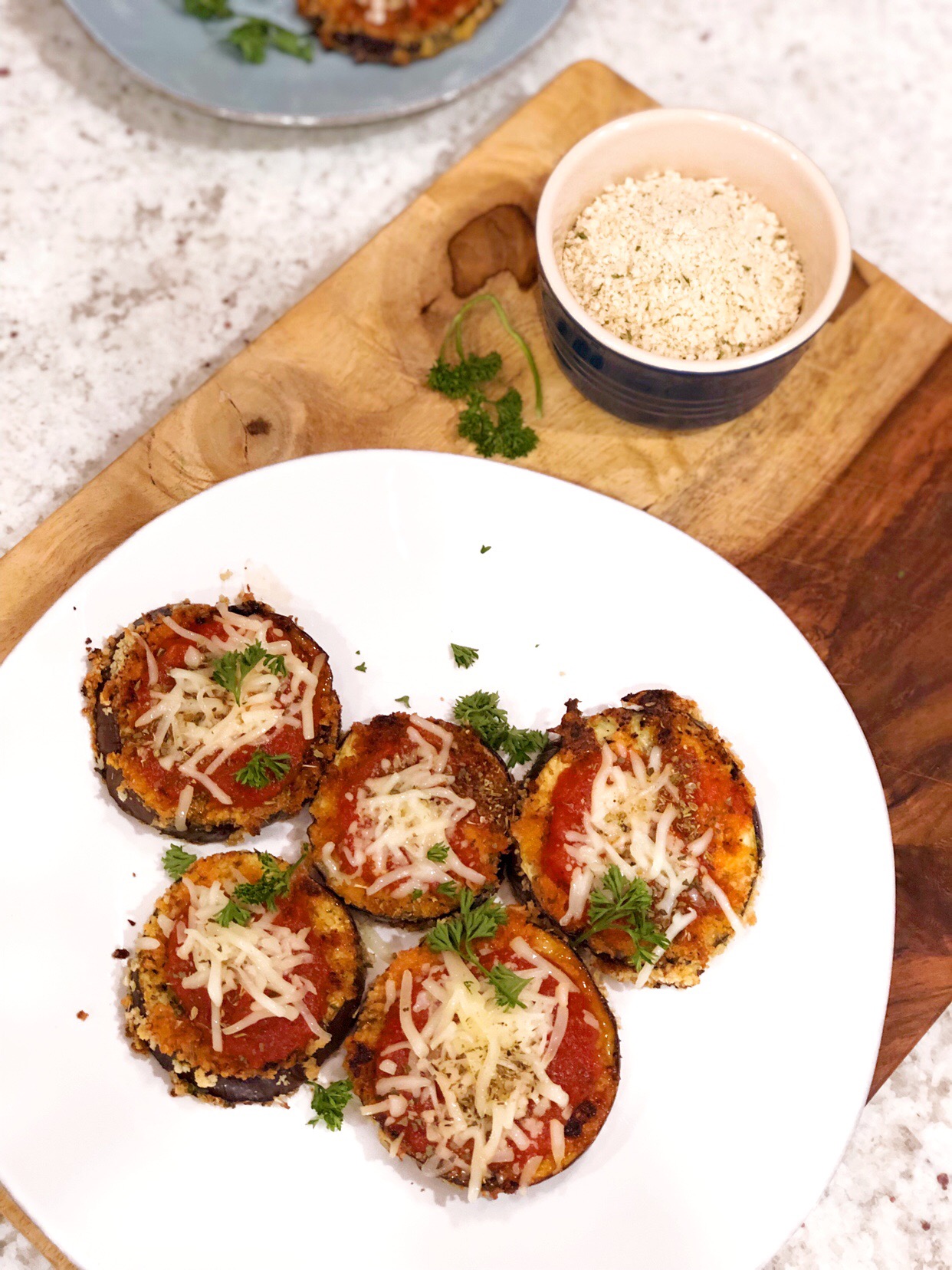 So, first of all my daughter, Taylor's favorite food is pizza! She has most recently become the pickiest eater ever. I needed to trick her into eating something different and healthy so that is how these crispy eggplant pizzas have come into my house. Let's just say she wasn't as easily convinced as I thought she was going to be. She did eat them though and of course loved helping me make them.
The benefits of eggplant
Eggplant is a species of the nightshade and grown for its fruit. It is related to the potato and tomato. So, eggplants contain fiber, potassium, vitamin C, and B6. They are good for your heart health. Studies have shown that eating eggplants can lead to lower rates of heart disease. Eggplants are known to lower your blood pressure, prevent some cancers, help with anemia, and diabetes.
How to make crispy eggplant pizzas
The trick to my crispiness is to make the pizzas how you might make an eggplant parmesan.  I started by using my favorite cast iron skillet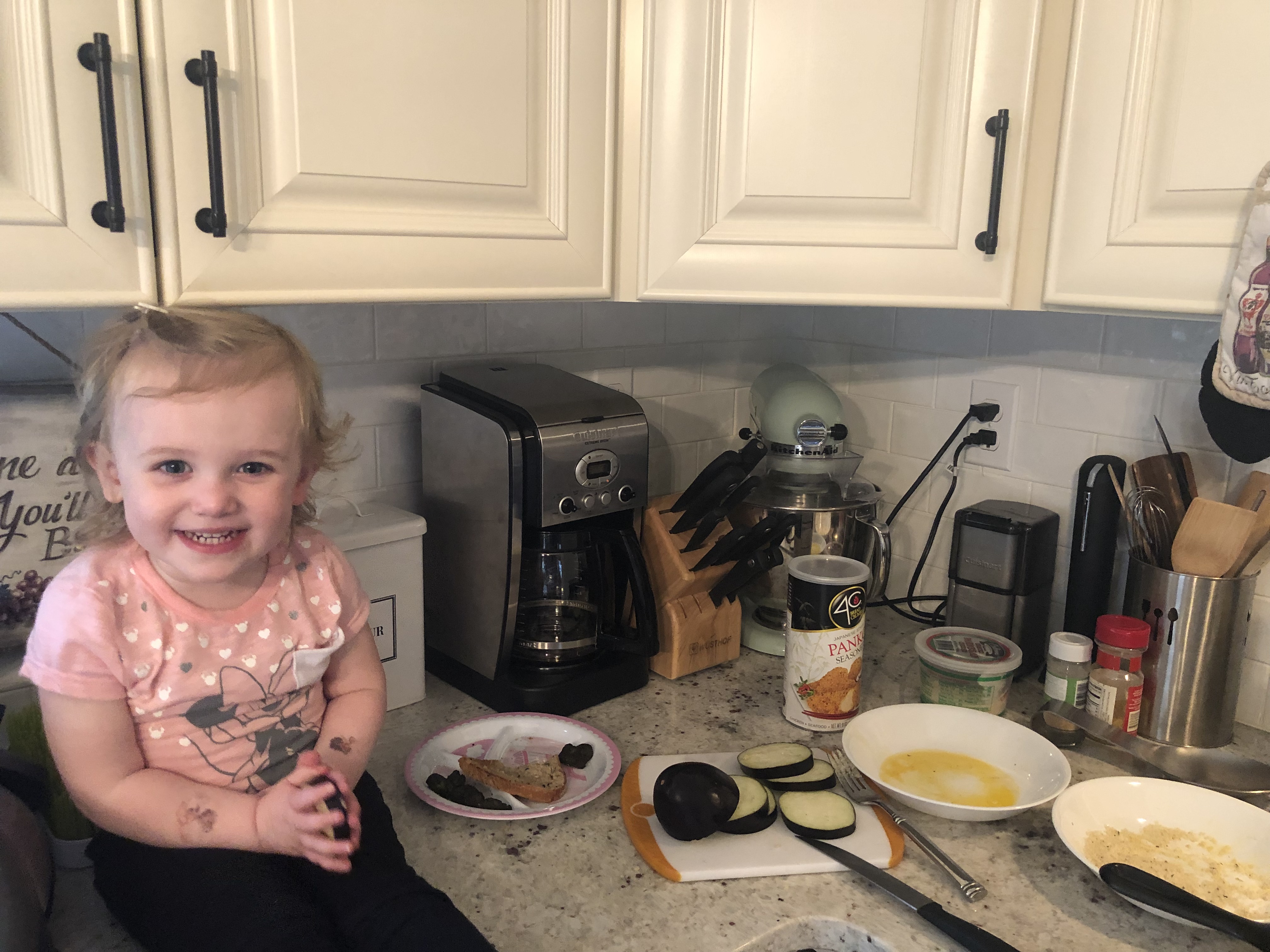 then adding a little bit of olive oil to the pan. I also cut my eggplant pretty thin so they can really get crispy. Taylor sat next to my assembly line I had next to the skillet.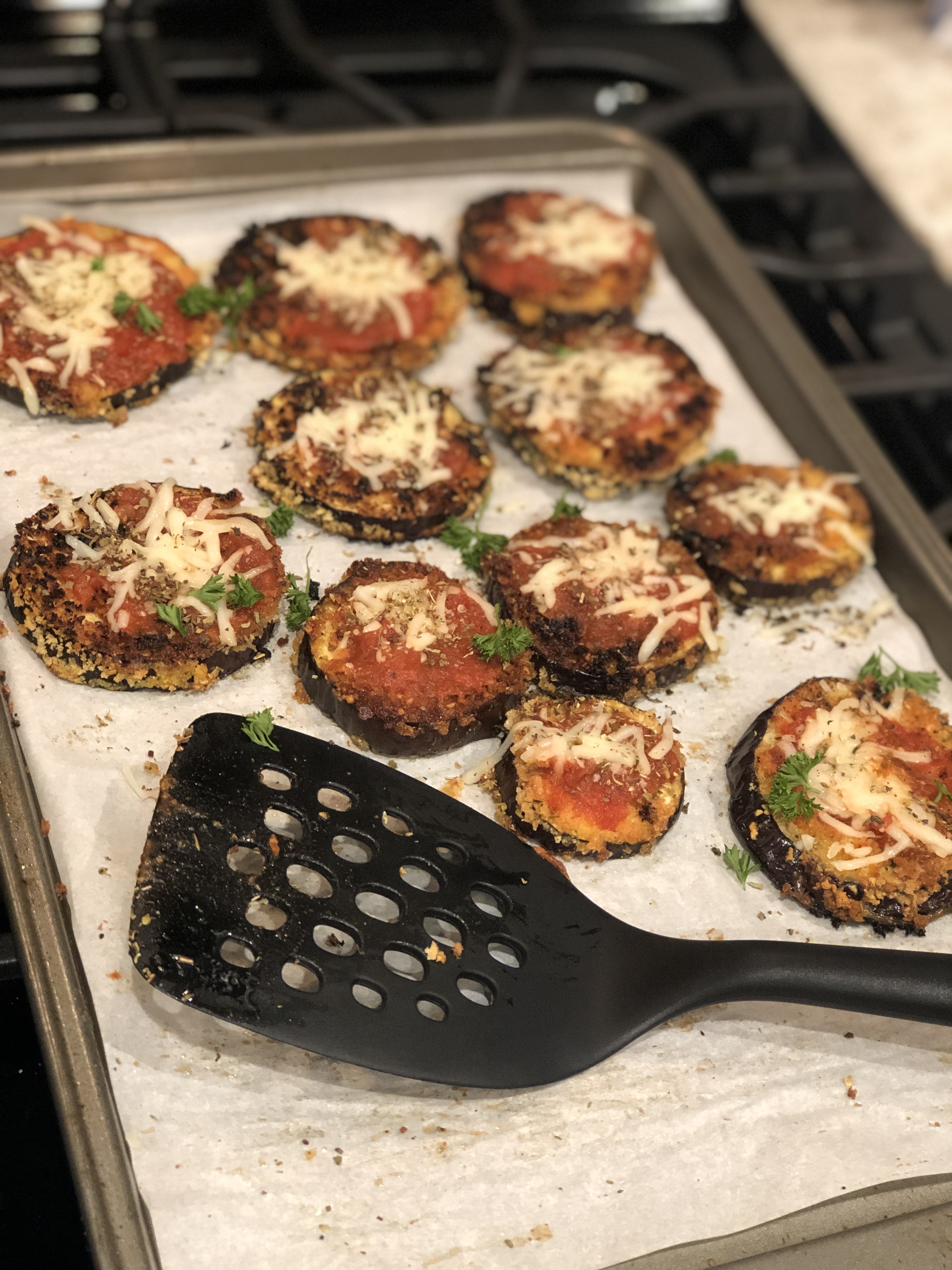 We had thinly sliced eggplant, then one shallow dish filled with a whisked egg, with himalayan salt and ground black pepper.  Next to that was another shallow dish of panko, grated parmesan, garlic powder, and adobo.  Basically, you start by dipping the eggplant into the egg combo, then the panko mix, then straight to the cast iron skillet.  Cook each side of eggplant about 3 to 4 minutes.  This process is what makes the pizzas super crispy. 
Place cooked eggplant onto a baking pan lined with parchment paper.  Sprinkle with oregano and then bake at 400° for 15 min.  Remove from the oven and cover with your choice of sauce and cheese.  I always used reduced fat cheese, but with pizza I'd suggest sticking with shredded mozzarella.  Add some more oregano and basil and cook for another 10 minutes. Sprinkle with fresh parsley and enjoy!  It's that easy 🙂
Below is a list of some of the products I used to create these crispy eggplant pizzas!
These pans are fantastic. They're super easy to clean up and they come in three different sizes! Also, how can you beat that price?
I like this spatula because it's lightweight. The added holes are a bonus so that when you pick up the eggplant from the cast iron skillet, the extra liquid or grease drips right off.

I linked the cast iron skillet above, as well, but here it is again 🙂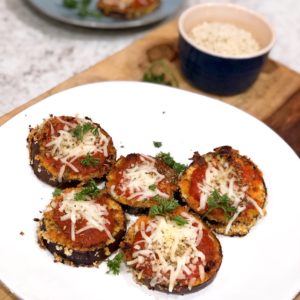 Crispy Eggplant Pizzas
The crispiest eggplant pizzas on the block.
Print
Pin
Rate
Ingredients
1

eggplant

large and thinly sliced

2

tbsp

olive oil

1

egg

whisked

⅛

tsp

ground black pepper

⅛

tsp

himalayan salt

½

cup

panko

¼

cup

grated parmesan cheese

1

tbsp

garlic powder

1

tbsp

adobo

1

cup

pizza sauce of your choice

1

cup

reduced fat shredded mozzarella

parchment paper

½

cup

fresh parsley

chopped

1

tbsp

oregano

1

tsp

basil
Instructions
Heat a cast iron skillet to medium heat and drizzle with the olive oil. Can add more oil along the way if you feel you need it. Preheat oven to 400 degrees.

Line a baking pan with parchment paper. Form an assembly line of the eggplant, next a shallow dish with the egg, salt, and pepper. Last, another shallow dish with the panko, grated parmesan, garlic powder, and adobo.

Dip eggplant into the egg mix, then panko mix, then cast iron skillet. Cook on both sides until crispy. About 3 minutes per side. Then lay eggplant on prepared pan with parchment paper.

Continue until all your eggplant has been used. Sprinkle with oregano and bake for 15 min. Remove from oven and add the sauce then the cheese and sprinkle with more oregano and add basil. Bake for another 10 min.

Sprinkle with fresh parsley and serve!