Who doesn't love a good salad?! This apple raisin salad with walnuts is one of my favorites. I know when I find a salad that is full of ingredients, but not too overwhelming, I become a happy camper 🙂 This salad was one I recreated from a restaurant I first discovered it from. Fruit in a salad really enhances the flavor and when added with cheese I mean come on. I'm salivating right now just thinking about it.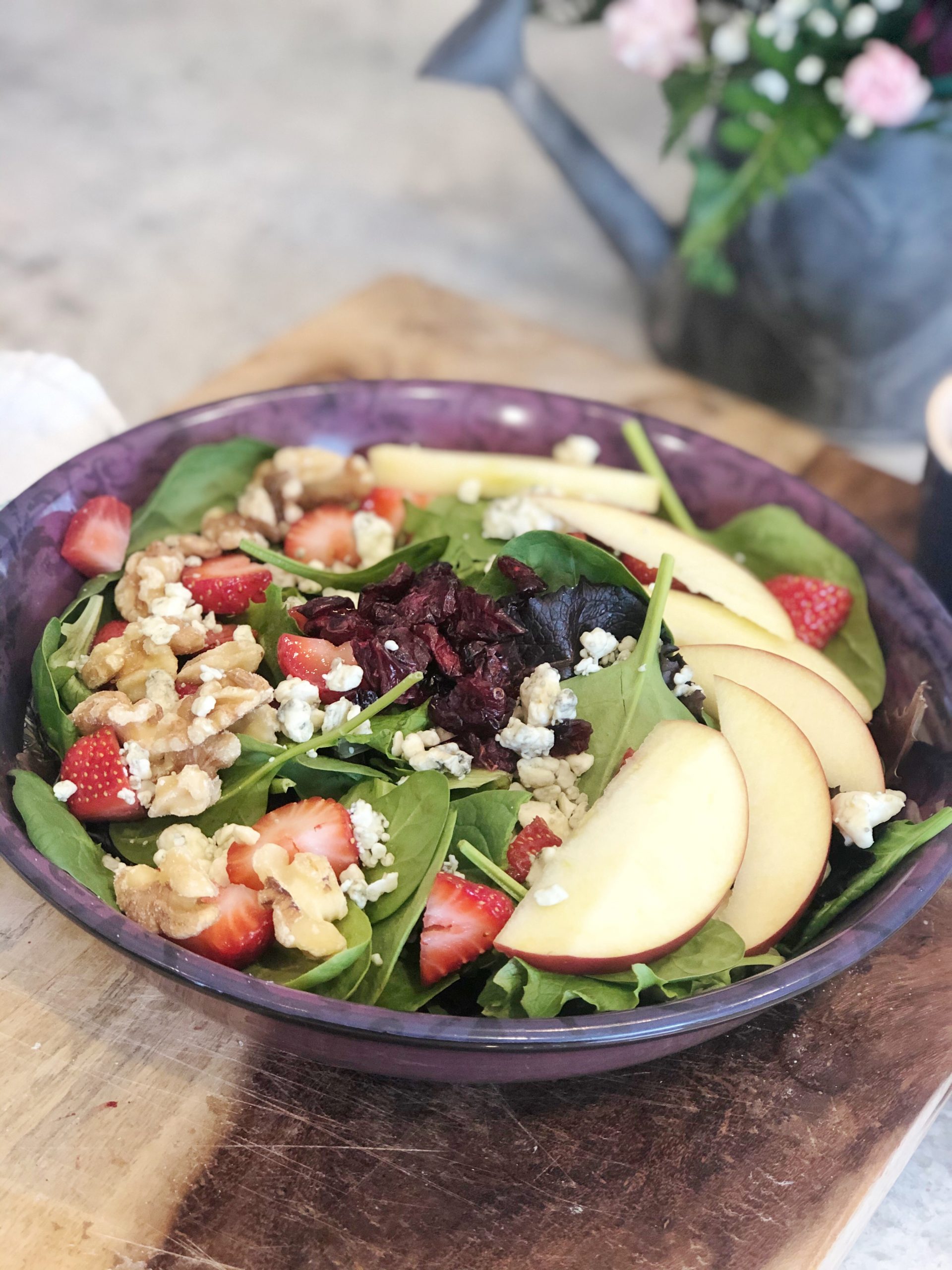 An apple a day keeps the doctor away! In all seriousness though apples are super nutritious for you. Apples are really rich in antioxidants. They have even been known to help reduce the risk of developing some diseases. There is also growing evidence that suggests an apple a day may help prevent breast cancer. We all know there is becoming more and more research that shows if you have a a lot of veggies and fruits in your diet this adds to and improves your health. Apples are one of my favorite fruits to eat, especially as a snack with peanut butter!
Raisins are also a great snack to add into your salads. They are an excellent source of fiber, which I am currently looking to eat more of since I am 25 weeks pregnant 🙂
Ingredients to make this delicious salad
First of all I have a personal love for spinach. Don't ask me why, but I find myself putting it in a lot of my dishes. It's a staple on my weekly shopping list because I eat it so often. I have also recently been sneaking it in my children's meals and they have been eating it and not even knowing 🙂 You also absolutely cannot have a salad without cheese. I've added another favorite of mine to this one, bleu cheese. If you are also expecting, like I am, just make sure your bleu cheese is pasteurized. Us pregnant gals gotta look out for one another 😉
Obviously I used apples! I also know the main ingredient is raisins, but I haven't been able to eat them while pregnant so I subbed them out for craisins, but you choose whichever you prefer. This salad also has chopped strawberries and chopped walnuts! Walnuts are high in protein, which is something I am always looking to add to my meals. I didn't add any meats to this particular salad, which is why I threw in the walnuts. Walnuts actually have 4 grams of protein per 1-ounce. They also help fight aging and age-related conditions such as dementia. When I hear anything that helps my appearance I jump on it :0
Fun accessories for this salad
I'm kind of a stickler for rose colored things. I guess because I am a big fan of rose! These salad bowls are everything

I think this salad bowl looks so pretty and clean
This one I find fun and sophisticated, which sometimes I like to pretend I am
If you want to take your salad to go, but don't want some of the ingredients mixed in yet this is perfect
This are perfect if you have kids, like me, because they don't break 😉
How cute are these tongs
These are the ones I use the most at my house
How to make this dish
Easy peasy lemon squeezey! Mix all ingredients together and use a light dressing! If I'm not making my own I like to use a raspberry walnut vinaigrette lite dressing. I like using Ken's Steak House dressing because it has 50% less fat and 33% fewer calories than regular dressing!
Taylor loves helping out with anything I'm doing in the kitchen so here she is pouring my dressing onto my salad!
Apple Raisin Salad with Walnuts
The perfect combination of ingredients to make the most tasteful salad!
Print
Pin
Rate
Equipment
salad bowl

cutting board

paring knife
Ingredients
1 ½

cups

baby spinach

¼

cup

bleu cheese

2

apples

sliced

¼

cup

raisins or craisins

¼

cup

fresh strawberries

washed and chopped

¼

cup

walnuts

chopped
Instructions
Using a cutting board and paring knife chop up apples, strawberries, and walnuts.

Place all ingredients in a salad bowl and top with your dressing of choice.

I recommend a light raspberry walnut vinaigrette.
Notes
Use a paring knife because a paring knife is a small short-bladed knife, used for intricate cutting, peeling, mincing, and dicing.  The blades are simple, sharp, and precise.  Ideal for peeling and cutting small fruit and vegetables.