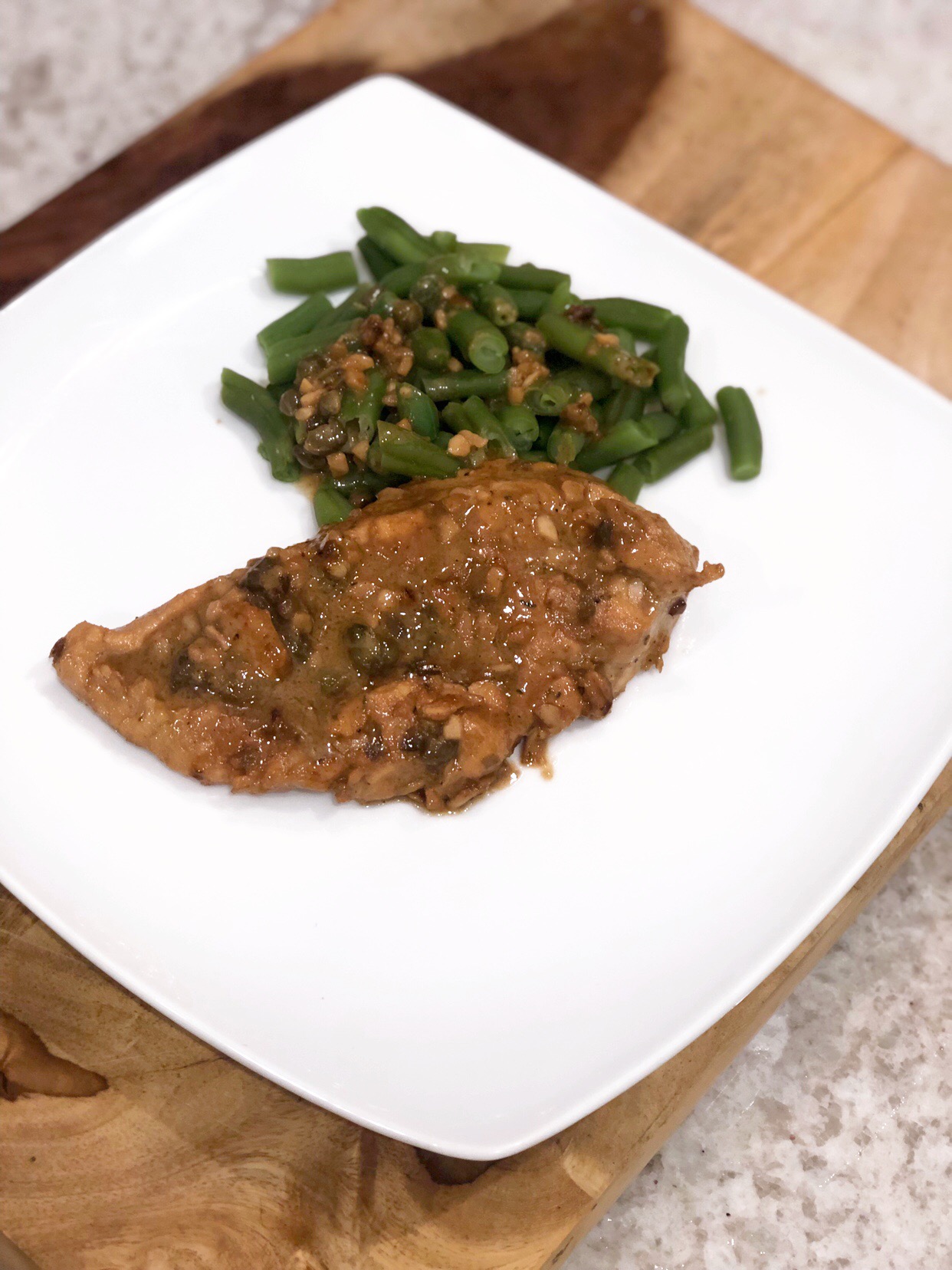 So, I was trying to decide what to make for dinner. I looked in my fridge and all I had was chicken and lemons and garlic. Can you guess why I decided to make Lemon Garlic Chicken? 😉 I am all about easy and not stressing on what to make for a meal. I always use what I have on hand.
My one advice though is to make sure your chicken is thinly sliced because they will cook much quicker. If you don't already have thinly sliced on hand you can cut the ones you do have in half and use each half as one piece. The thicker chicken is usually cheaper, as well, so you will save a few bucks creating your own thinly sliced.
I always season my chicken with kosher salt and ground black pepper. Those are two seasonings I have in my kitchen at any hour of any day. A little tip I have is that I keep a pad with a magnet on the back on my fridge. That is where I create my shopping list every week.
So, once my chicken is seasoned I cook it in my cast iron skillet on medium high heat. Then, after my chicken is cooked through I remove it from the pan and deglaze the pan. That just means I add stock or any liquid to my pan and scrape up the bits. This gives the meal an extra boost of flavor. Next, squeeze in some lemon juice and capers. I then stirred in some butter (NO salt added) and low fat cream to make a rich, creamy, sauce 🙂 Then, return the chicken to the pan and let it simmer in the sauce. Serve with your favorite veggie or a healthy carb. Brown rice or quinoa are my go-to healthy carbs 🙂 Enjoy!
Ingredients for this dish
1 pound of thinly sliced chicken breasts - fat trimmed off and cut into 1 inch thick pieces. Can either pound your meat using a mallet laid between plastic wrap or cut your chicken in half lengthwise known as the butterfly cut.
kosher salt and ground black pepper to taste
1 tbsp. coconut oil
¼ cup low-sodium chicken stock
2 tbsp. capers
1 tbsp. lemon juice
4 tbsp. butter (NO-salt added)
1 cup almond milk
2 tbsp. corn starch
1 tsp. dill seasoning
2 to 3 tbsp of minced garlic (depending how much or how little you like garlic)
You will also need some aluminum foil
Directions for this meal
Heat a cast-iron skillet to medium-high heat. Can use a non-stick skillet, as well. Click the link below to the cast iron skillet I recommend.
Add coconut oil to pan and let melt. Then, season chicken breast on both sides with salt and pepper then add to the pan and cook until no longer pink in the middle. About 5 to 8 minutes on each side.
Remove chicken and set aside covered with aluminum foil to keep warm.
Pour in chicken stock and deglaze the pan by scrapping up the brown bits left in the pan. Add the garlic and cook until fragrant; about 5 minutes.
Squeeze in lemon juice, capers, butter, milk, and cornstarch. The almond milk and cornstarch are a healthy substitute for heavy cream.
Return the chicken to the pan and let simmer on low for 20 minutes.
Sprinkle with dill and serve with your choice or veggie or healthy carb.
Tip: When scrapping up the brown bits left in the pan use a wooden spatula instead of a metal one. The metal will ruin your pan.