Panko Chicken over Zoodles with Homemade Pesto 
Jump to Recipe
I am currently salivating right now thinking about this meal 😛 Panko chicken over zoodles with homemade pesto is my favorite way to make chicken and panko is also way better for you to use than regular bread crumbs. Panko is lower in calories, sodium, and fat and higher in fiber than regular breadcrumbs. 1/4 cup of whole wheat panko (Ian's brand) is only 70 calories 🙂 You can purchase Ian's brand by clicking on the link below.
  Ian's Original Panko Breadcrumbs $7.12
The zoodles also take about 10 minutes to make from start to finish and they are a great way to add those veggies into your meals. I always try to incorporate my daughter into helping me cook. I have found that she likes to use my spices and help out seasoning our meals. Any way to include your children in dinner making puts a positive spin on dinner eating.
The homemade pesto is also super refreshing eaten with the zoodles and tomatoes. Of course I had to find a way to throw some cheese in there too 😉 I added some reduced fat shredded mozz to this mix and it was the perfect touch!
Ingredients:
1/2 cup panko bread crumbs
1 pound of chicken sliced in strips
1 egg, whisked
kosher salt (for seasoning chicken and zoodles to your desire)
ground black pepper (for seasoning chicken and zoodles to your desire)
¹⁄4 cup grated parmesan
1 tsp. garlic powder
1 tsp. adobo seasoning
3 zucchinis
1 tbsp. avocado oil
1 tbsp. minced garlic
2 cups cherry tomatoes, sliced
2 cups fresh packed basil
¹⁄4 cup pine nuts
whole garlic clove
1 tsp. lemon zest
½ cup avocado oil (or can add more depending on the consistency you like for your homemade pesto)
¹⁄3  cup shredded parmesan cheese
Directions:
For the homemade pesto:
In a blender combine basil, pine nuts, 1/2 tsp. salt, 1/4 tsp. pepper, clove of garlic, 1 tsp. lemon zest, 1/2 cup olive oil (can add more for your desire of consistency), and 1/3 cup shredded parm cheese. Add more oil if you want it more
For the zoodles:
Using a veggie peeler, slice zucchini sticks into strips. I actually have a veggie spiralizer so I just use that. 
  Fullstar Vegetable Spiralizer Vegetable Slicer - 3 in 1 Spaghetti Maker Zoodle Maker Veggie Spiralizer $13.96
Pour 1 tbsp. oil into a cast iron skillet and add zucchini noodles. Season with salt and pepper and add minced garlic. Cook until veggie are soft and tender, about 10 to 15 min.
For the panko chicken:
Follow this link for the perfect piece of panko chicken. https://www.jillianshealthfuleats.com/the-perfect-chicken-cutlet-salad/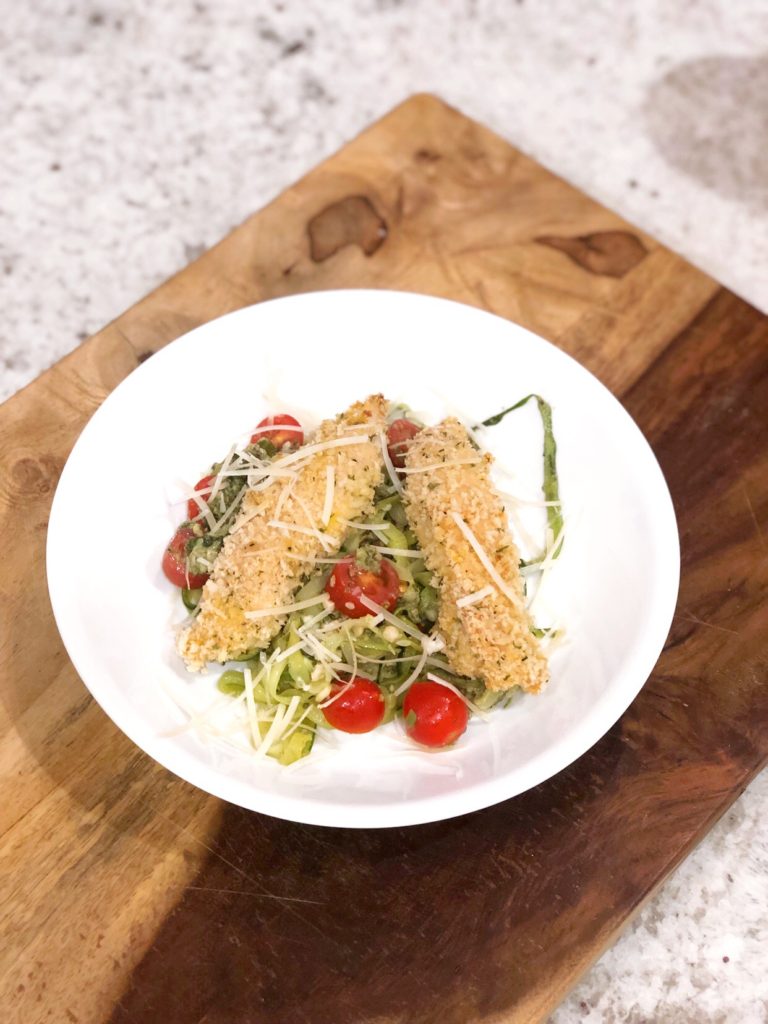 Homemade Pesto with Zoodles
A healthy way to have crispy chicken and pasta!
Ingredients
kosher salt

to taste

ground black pepper

to taste

2

cups

fresh packed basil

¼

cup

pine nuts

1

garlic clove

minced

1

tsp

lemon zest

½

cup

olive oil

can add more for desired consistency

⅓

cup

shredded parmesan cheese

1

tbsp

oil

for zoodles

3

zucchini

spiralized

1

tbsp

minced garlic
Instructions
For homemade pesto sauce:

Combine all ingredients into a blender and blend until smooth.

Basil, pine nuts, salt, pepper, garlic, lemon zest, olive oil, parmesan cheese. Can add more oil if desired!

Heat a cast iron skillet or non-stick skillet to medium heat and add 1 tbsp oil. Add zoodles, garlic, salt, and pepper and cook until zoodles are soft; about 10 to 15 minutes.
Notes
How can my kids help?  add all ingredients to blender for the pesto sauce 🙂