When in doubt pancakes it is!  That is one hundred percent what my husband thinks!  He literally makes pancakes every single Saturday and most Sunday mornings.  He has actually made it a tradition with our daughter, Taylor.  They make chocolate chip pancakes with all the works. 
So, me being my healthy self, needed to intervene and make those cakes as healthy as I could since Taylor was eating them every week.  Her and I actually made them together this past Monday morning when my husband, Eric, was at work 😉  He would not approve of my intervention on his pancakes :0  That is when I decided to make these whole wheat strawberry pancakes.
How to make whole wheat pancakes
So, I started off by getting all my ingredients together first to make it easier when adding them all together. Taylor sat in her usual spot on the countertop helping me dump everything into our large bowl.  We first added our whole wheat flour because we all know I'm a stickler for whole wheat anything :0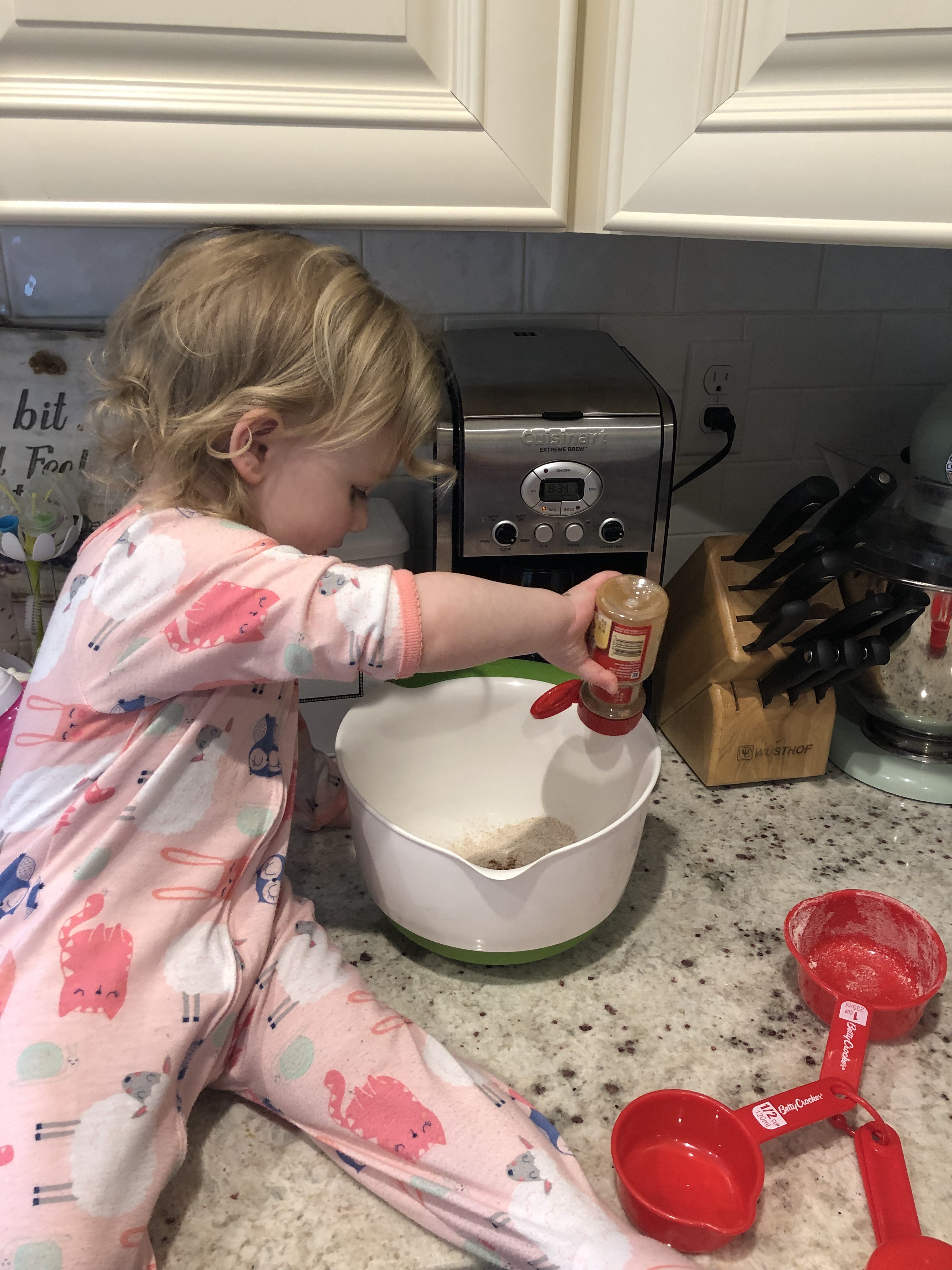 Then, we added our cinnamon, baking powder, kosher salt, almond milk, unsalted butter, and pure vanilla extract. I then added the egg. I debated letting Taylor crack the egg in, but then decided I like my pancakes without shells in them.
We mixed all the ingredients together.  Next, I chopped up some strawberries and we folded those in.  Taylor ate as many as I added to the batter.  Strawberries are probably her favorite fruit.  I heated up a square shaped non-stick skillet and sprayed it with avocado cooking spray.  I like the square shape because it fits more pancakes on it, then a circular pan.
This is the pan I use to make my pancakes.
Once the pancakes start to bubble that's when you know to flip them. I served mine with a drizzle of pure maple syrup and a couple extra slices on strawberries on top for Taylor 🙂 I have also served them with Abby's Better Strawberry Cashew Butter!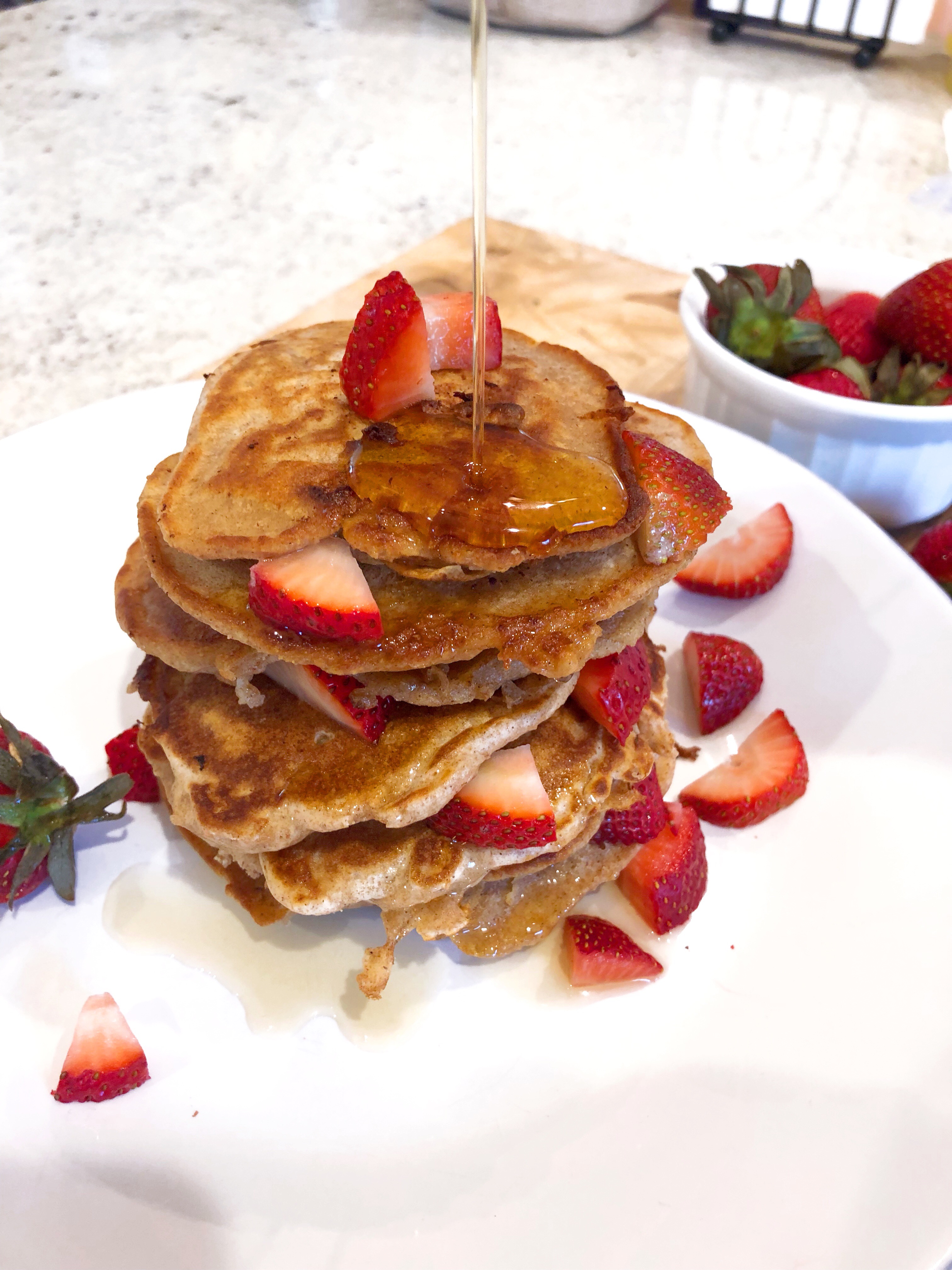 In a large bowl, whisk together 1 cup of whole wheat flour, and 1 tbsp of baking powder.  Mix well and set aside.  In a separate bowl combine 1 chia egg (directions below), 2 tbsp. of pure maple syrup, 1 ½ tsp. of pure vanilla extract, and 1 tbsp of melted coconut oil.  In a microwave safe bowl, add ¹⁄3 cup Abby's Butter Strawberry Cashew Butter and microwave for 20 seconds.  Stir and add to the wet ingredients. 
Whisk until smooth.  Add wet ingredients to dry ingredients and stir just until combined.  Heat a griddle or square non-stick pan ,like the one I've linked above, to medium low heat.  Coat with cooking spray.  Drop about ¼ cup of batter onto heated skillet.  Cook until surface of pancakes have some bubbles.  Flip carefully with a spatula, and cook until browned on the underside.  Cook as many pancakes until you run out of the batter.  Serve warm with MORE strawberry cashew butter, some strawberries, and some pure maple syrup drizzled on top.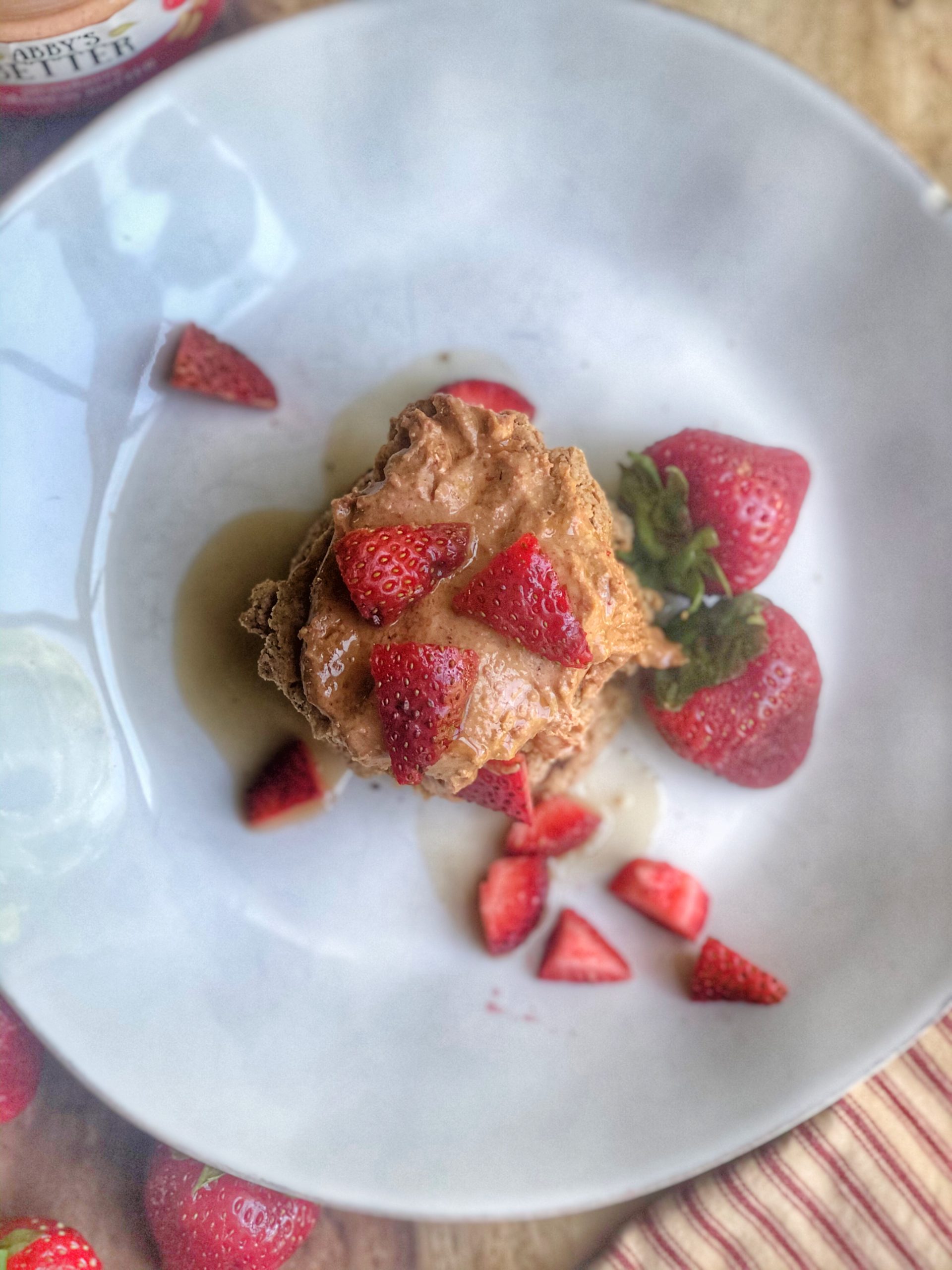 How to make a chia egg
You will need 1 tbsp of chia seeds and 3 tbsp of water.
Combine 1 tbsp of chia seeds and 3 tbsp of water in a small cup or bowl. Stir.
Wait about 5 minutes, or until the mixture forms a get. Use in place of one egg in your recipe.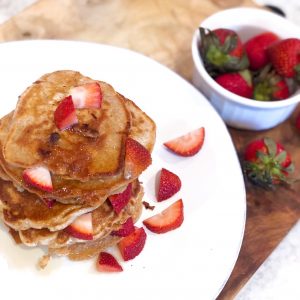 Whole Wheat Strawberry Panckes
Super moist healthy strawberry pancakes.
Print
Pin
Rate
Ingredients
¾

cup

whole wheat flour

½

tsp.

cinnamon

1

tbsp.

baking powder

½

tsp.

kosher salt

1

cup

almond milk

1

large

egg

4

tbsp.

unsalted butter

softened

½

tsp.

pure vanilla extract

1 cup

strawberries

washed and chopped

coconut cooking spray

pure maple syrup

drizzle on top
Instructions
In a large bowl add flour, cinnamon, baking powder, himalayan salt, milk, egg, butter, and vanilla extract. Mix to combine.

Meanwhile, heat a non-stick skillet to medium-low heat. Spray with coconut cooking spray.

Chop up strawberries and fold them into batter.

Pour small mounds onto skillet to form circles for pancakes. Once cakes start to bubble flip them over. Cook until each side is golden brown. Remove from skillet and plate. Drizzle with pure maple syrup and enjoy!n