These pumpkin muffins are the most insanely moist, sweet, flavorful, and satisfying muffins I've ever had. They are super easy to make, as well! The perfect fall dessert for an after-dinner treat or a Sunday brunch! My kids loved snacking on them too, score!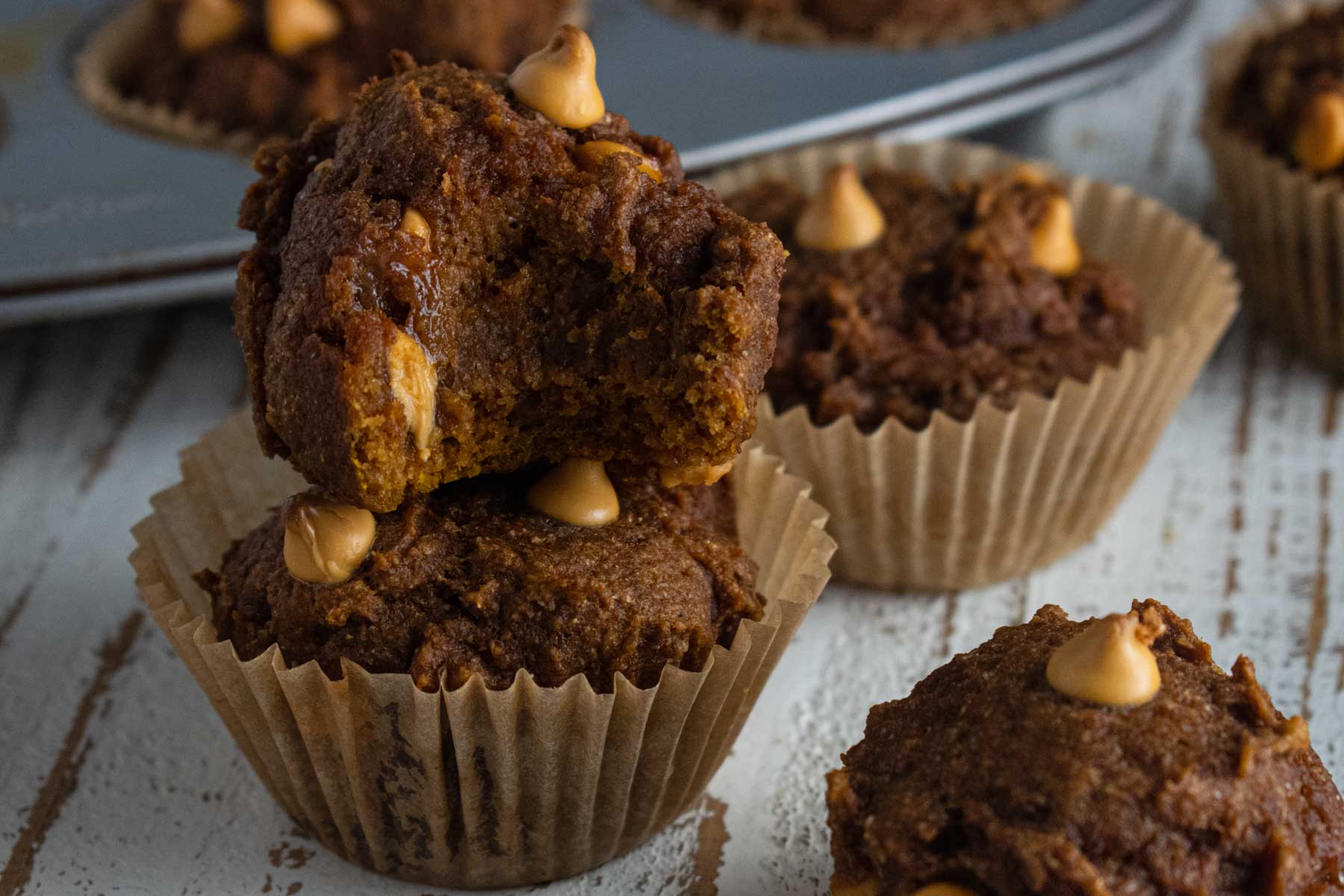 A few years back we had a fall holiday party at my work and one of the guests brought these butterscotch pumpkin muffins. Everyone was raving about them so, of course, we all asked her for the recipe and I put my twist on them to make them as healthy as I could, without completely changing their taste 😉
These are the perfect fall treat! You could serve these as an appetizer for a brunch, a dessert at a fall party, or even as a snack for your kid's lunch boxes (or even your own lunchbox ;)! If you're looking for more fall treat recipes, you need to check out my Flourless Pumpkin Muffins or my Healthy Apple Bread!
Ingredients for these pumpkin muffins
You will need the following ingredients with a few suggestions included below.
whole wheat flour or almond flour - I am always using whole wheat flour for all my baking recipes because of the health benefits over all-purpose flour. I have found that all-purpose flour will make your muffins a bit fluffier so if you follow my lead and use whole wheat flour, I have also learned that using half whole wheat and half almond flour helps to fluff them up more.
coconut sugar - this type of sugar is a plant-based sugar so it is a natural sweetener. I find it to be just as sweet. Whole Foods has a brand I like using. Whole Foods Organic Coconut Sugar!
pumpkin puree - not only does pumpkin puree act as a sweetener and an added creaminess, but it also tastes insanely delicious in everything it's baked in!
avocado oil or olive oil or coconut oil - I prefer oil over butter with this recipe because it adds to the moisture in the muffin! These muffins are ridiculously moist, which makes them the best pumpkin muffins I've ever had!
butterscotch morsels - who doesn't love butterscotch? These morsels taste like a rich, buttery sweetness that enhance the flavor of these butterscotch muffins! You can always opt to leave them out, but I'm telling you, you'll be missing out.
Cookware for this fall dessert
You can make these into mini muffins or your basic muffin. If you choose mini muffins, you will obviously need a mini muffin tin and mini muffin liners. If you need a good mini muffin tin I've linked the one I have here.
Premium Non-Stick 24-Cup Mini Muffin Pan
Directions

for these pumpkin muffins

Step 1 - Preheat your oven to 350 degrees Fahrenheit. Spray a muffin tin with cooking spray and line the baking pan with muffin liners. Set aside.

Step 2 - Mix all dry ingredients in a large mixing bowl.
Step 3 - Add in the eggs, oil, and pumpkin and mix well! Fold in the butterscotch morsels and mix until smooth.
Step 4 - Bake for 15 to 20 minutes. Enjoy warm or let them cool and eat later!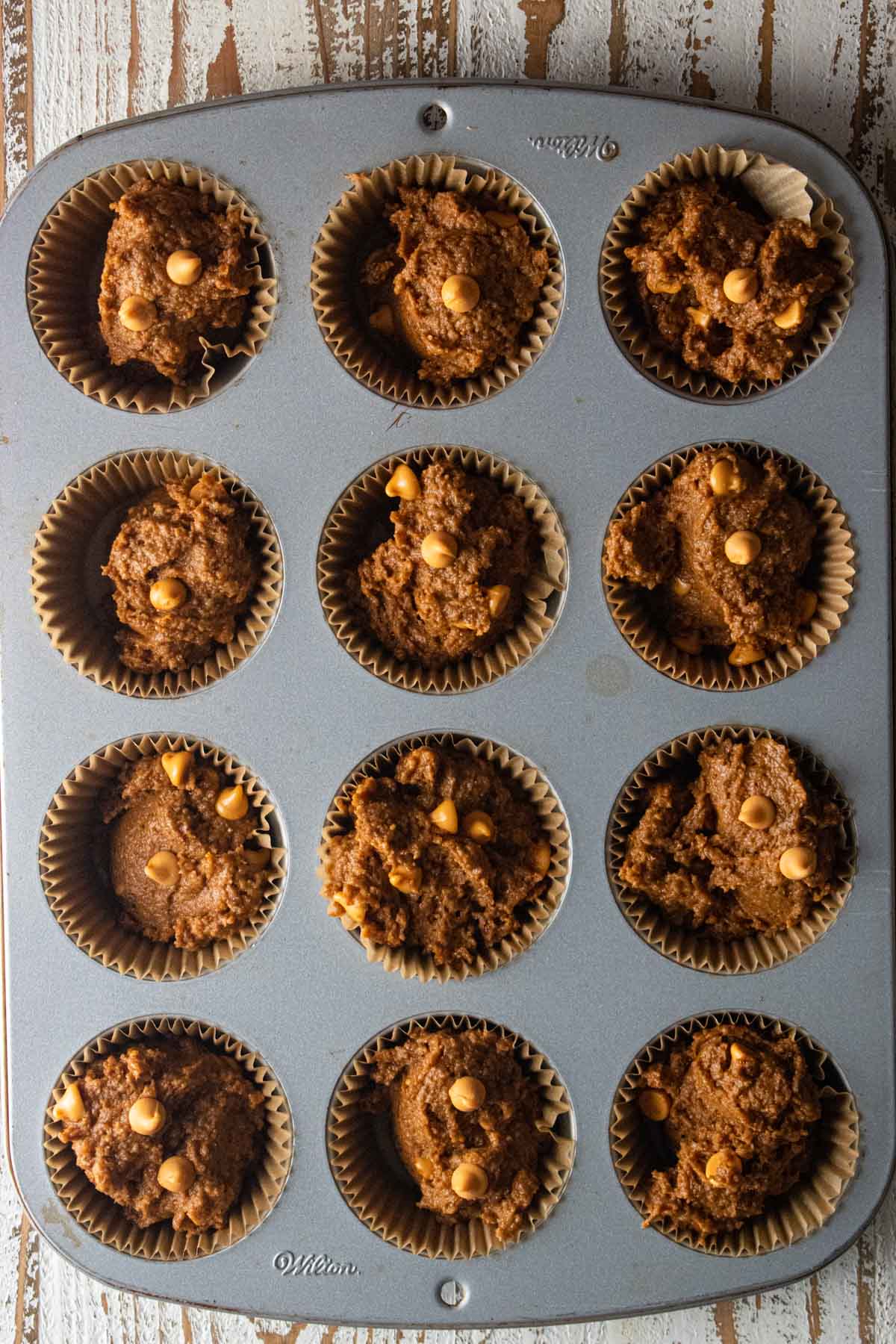 Substitutions
Here are a few swap-outs you can use if you aren't a fan of all the ingredients or follow a certain diet.
Whole Wheat Flour or Almond Flour - If you follow a gluten-free diet and want gluten-free pumpkin muffins then use Gluten-Free flour. You can also use All-Purpose Flour, as well.
Eggs - if you follow a dairy-free diet or a vegan diet and are looking for dairy-free muffins or vegan muffins then swap out the eggs for flax eggs. To make a flax egg, use 1 tbsp flaxseed meal and 3 tbsp of water for 1 egg.
Coconut Sugar - not into coconut sugar, then swap it out for white or brown sugar.
Avocado Oil, Olive Oil, or Coconut Oil - if you prefer using butter instead of oil, you can swap out the oil for unsweetened butter. Just make sure the butter is melted when you mix it in.
How can the kids help
If you love to include your children when you cook or bake I'm all for it! I love incorporating them in the kitchen with me. I always try and add tips to each one of my recipes on how your kids can help. My daughter, Cameran, helped me with this recipe. Here are the ways she pitched in!
Teaching how to measure out the ingredients using measuring cups.
Hand-over-hand guidance when mixing the ingredients. Depending on their age, some youngsters might mix too hard and fling their ingredients out of the bowl.
Fill the muffin tins with the muffin liners.
Add extra butterscotch morsels to the tops of each muffin right before baking!
Tips and FAQ's
Mix the dry ingredients FIRST before adding in the wet!

The purpose of combining the dry ingredients and then mixing in the wet helps to ensure all ingredients are mixed well without overmixing!
Add extra morsels before baking!

Before popping your muffins into the oven top each with about 4 or 5 extra butterscotch morsels to make your muffins look picture perfect 🙂
How can I store my muffins?

Store them in an airtight container in the fridge for up to 7 days. Because they are so moist they will last longer in the fridge. If you keep them on the counter only store them for up to 3 days.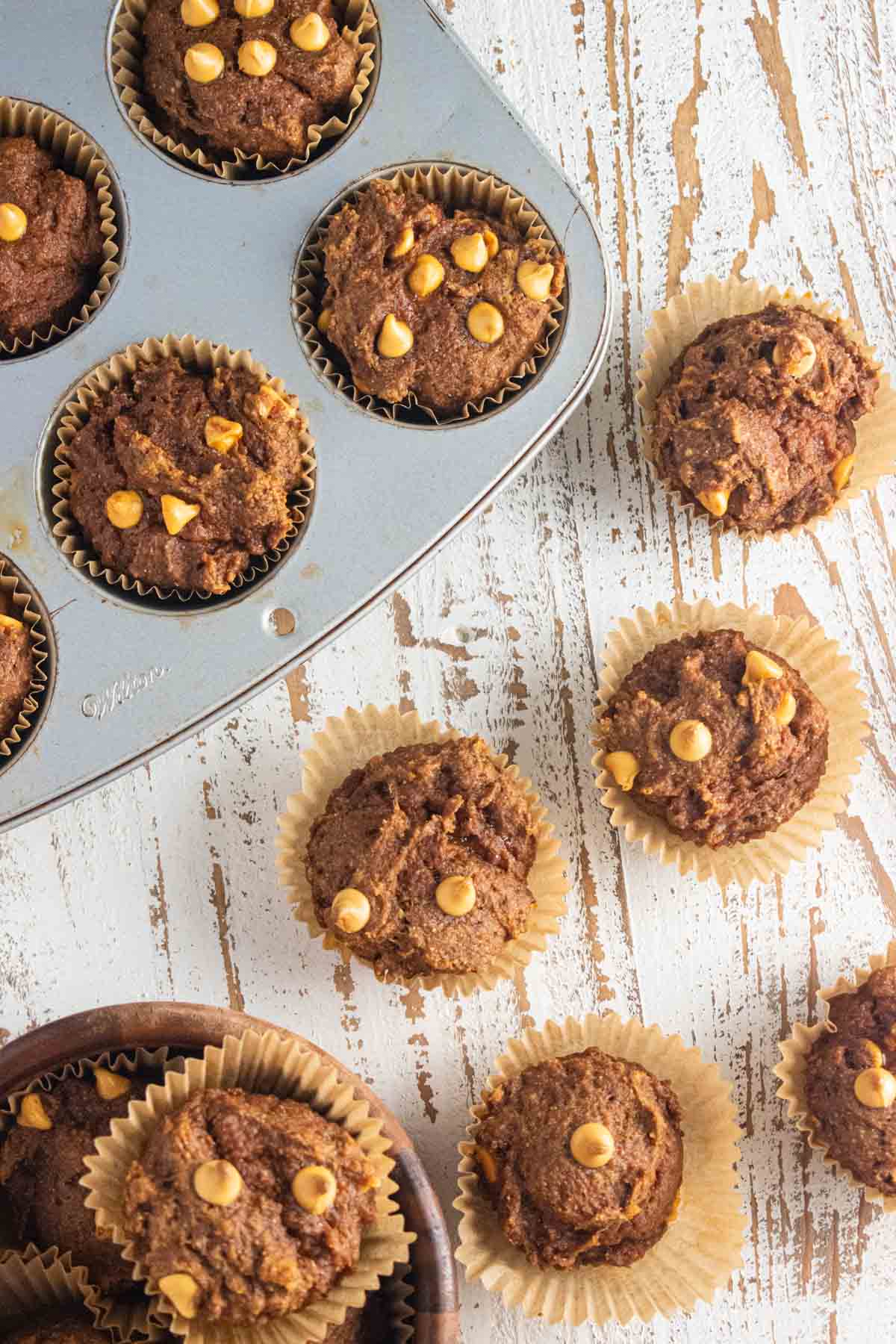 Other fall recipes to try!
If you give this treat a try don't forget to rate the recipe below! Always love hearing what you all think. You can also Stay in touch with me through social media on @Instagram, Pinterest, and Facebook. Don't forget to tag me when you try one of my healthy recipes!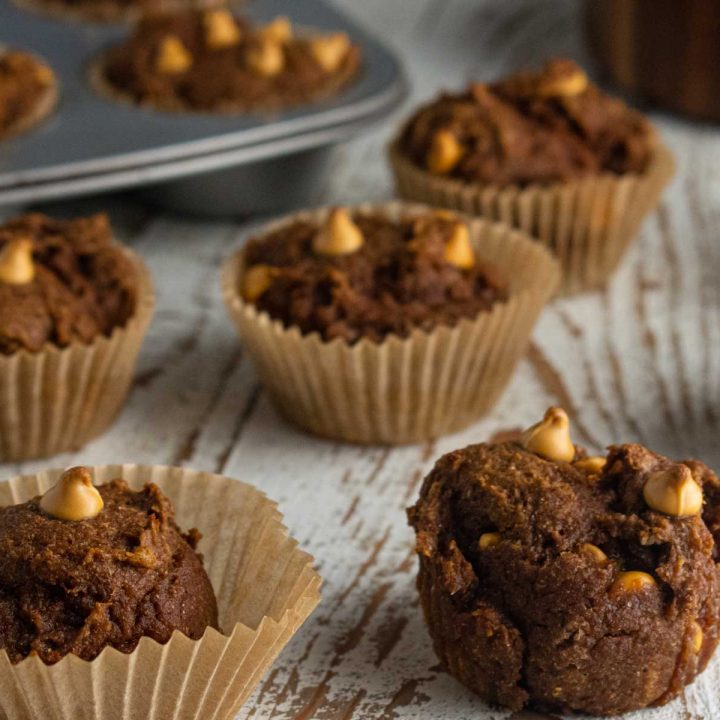 Pumpkin Butterscotch Muffins
The most insanely delicious muffins I've ever had! Perfect for a healthy snack 🙂
Print
Pin
Rate
Equipment
mixing bowls

24 cup mini muffin tin

optional- depending on which muffin size you choose

12 cup regular muffin tin

optional-depending on which muffin size you choose

muffin liners
Ingredients
2½

cups

whole wheat or almond flour

1

tbsp

baking powder

1

tsp

baking soda

½

tsp

kosher salt

1½

cups

coconut sugar

2

tsp

ground cinnamon

¾

tsp

nutmeg

1¾

cups

organic pumpkin puree

one 15 oz can

4

eggs

½

cup

avocado oil or olive oil or coconut oil

if using coconut oil, make sure it's melted

1

cup

butterscotch morsels

avocado or coconut cooking spray
Instructions
Preheat the oven to 350° and spray your muffin tin with cooking spray. Fill the muffin tin with muffin liners and set it aside.

In a large mixing bowl, mix flour, baking powder, baking soda, salt, sugar, cinnamon, and nutmeg until well combined.

Add in the eggs, oil, and pumpkin. Mix to combine. Next, using a rubber spatula, fold in butterscotch morsels.

Spoon mixture into prepared muffin tin. Top each with a few more morsels then bake for 15 to 20 minutes.
Notes
What can my kids do?  Measure out and help mix all the ingredients.  Have them put muffin liners in and place the butterscotch morsels on top.
Before popping your muffins into the oven top each with about 4 or 5 extra butterscotch morsels to make your muffins look picture perfect 🙂
Store in an airtight container in the fridge for up to 1 week. 
Nutrition
Serving:
1
muffin
|
Calories:
270
kcal
|
Carbohydrates:
39
g
|
Protein:
5.5
g
|
Fat:
11.1
g
|
Saturated Fat:
7.1
g
|
Polyunsaturated Fat:
0.6
g
|
Monounsaturated Fat:
1.2
g
|
Cholesterol:
93
mg
|
Sodium:
53
mg
|
Potassium:
3
mg
|
Fiber:
2.7
g
|
Sugar:
31
g
|
Vitamin A:
31
IU
|
Vitamin C:
1
mg
|
Calcium:
2
mg
|
Iron:
6
mg