The most flavorful, sweet, tangy Homemade Crockpot Applesauce out there. Only 3 wholesome ingredients that will leave the whole family wanting more.
Jump to Recipe
This is the perfect recipe to make with the kids after picking all those apples! We had more than enough apples and I knew I needed to find something to make with them. My kids all love applesauce and it's a food that is constantly in my fridge. So, that is why we decided to make some of our own.
This applesauce is insanely delicious and has the perfect amount of sweetness in every bite. Using only the 3 ingredients doesn't overdue it with flavor either. The taste is perfect and has an amazing consistency.
If you like this recipe you will also like my Healthy Apple Bread , and pairs well really with these Homemade Baked Chicken Nuggets.
Ingredients for crockpot applesauce
*This post contains affiliate links. As an Amazon associate I earn from qualifying purchases.
Below is a picture of the 3 ingredients you will need to make this delicious applesauce!
How do you make 3 ingredient crockpot applesauce?
This crockpot applesauce is quick and easy to make. First, peel your delicious apples using your basic peeler, then I like to use an apple cutter to core them.
Next, chop your apples into chunks and toss into your crockpot. Sprinkle on your cinnamon and sugar. Finally, add your water. Stir to combine and evenly coat your apples. Set on low for 8 hours. Once cooked, use a masher and smash your sauce until it's at the consistency you desire.
Hint: This recipe can easily be made overnight. Throw all ingredients in the night before and wake up to a juicy, delish applesauce. Your whole home will smell just like apples.
Substitutions for the best crockpot applesauce
Since there are only 3 ingredients and one is the main, there are not many substitutions to be made. If you are looking for any check out my suggestions below.
Cinnamon - if you are looking to replace cinnamon, some great alternatives that are similar in taste are nutmeg, cloves, or allspice.
Brown Sugar - there are a lot of sugar subs for brown sugar. You can try maple syrup, coconut sugar, honey, raw sugar, or even white sugar plus molasses.
Constraint on time?
If you need to make your applesauce right away and would prefer not using the crockpot you can surely do so. To make your applesauce without the crockpot you would heat all of your ingredients in a medium sized saucepan on medium heat. Cook for about 20 minutes, or until apples are soft. Use your masher and mash up your applesauce to the consistency you desire.
Equipment for your healthy applesauce!
Ok, so this may come as no surprise to you all when I tell you that you need a crockpot to make this recipe. I have a smaller sized crockpot that I find to be the perfect size for all my dishes. The large crockpots are better for holidays or parties.
Cuisinart Programmable Slow Cooker - $59.95
If you're looking to spend less check this one out.
Crockpot Manual Slow Cooker - $29. 99
Tips and FAQ's
How do you store your applesauce?

Store your applesauce in an airtight container in the fridge from 7 to 10 days. Or once completely cooled place in freezer bags and freeze for up to 2 months
Can you make applesauce with peels on?

Absolutely! Just don't peel your apples. Core and chop them then add to your crockpot along with your other ingredients and follow same instructions.
How do I make my applesauce unsweetened?

Simply remove the sugar and voila!
Can my kids help?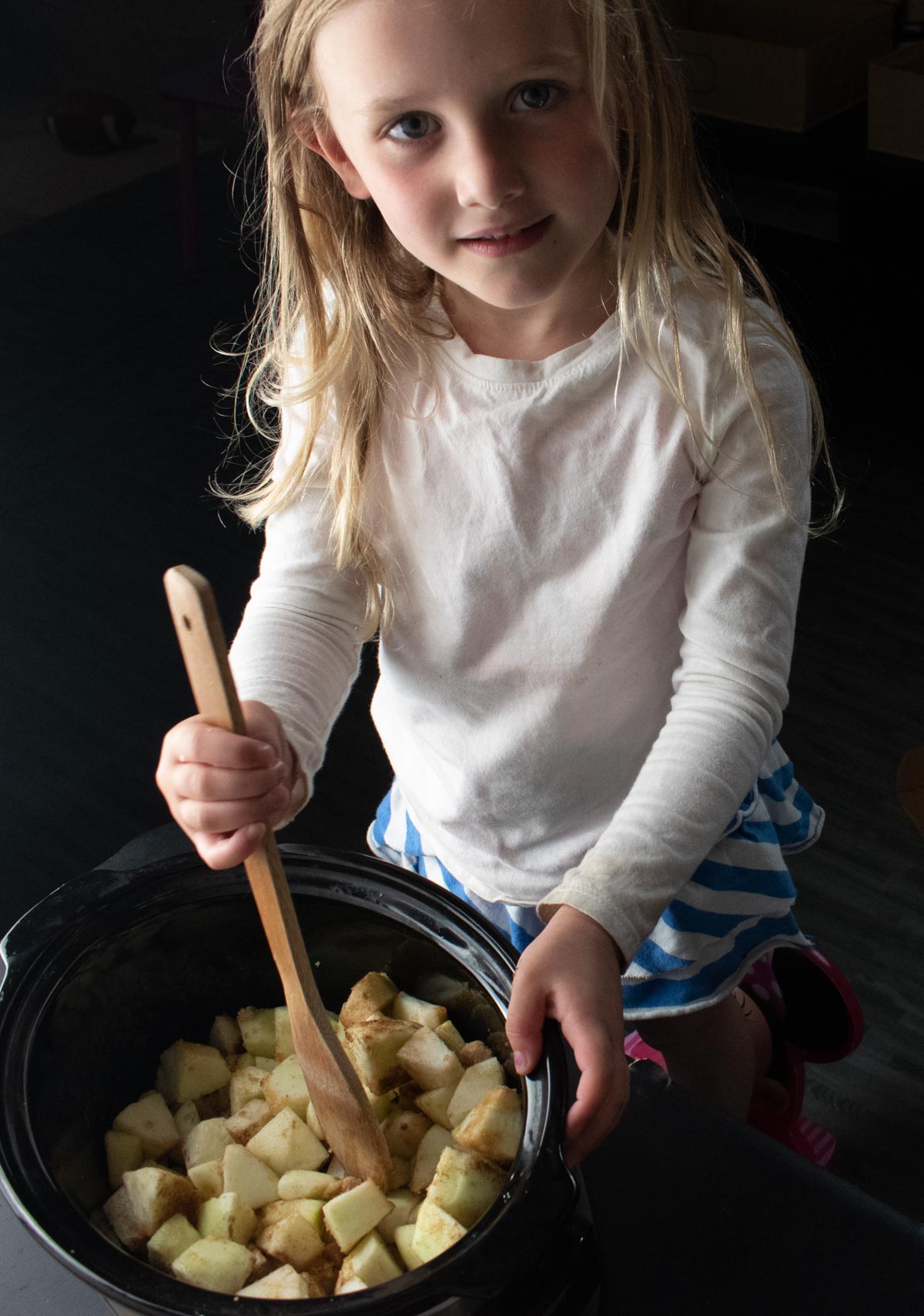 Here is a picture of my daughter, Taylor helping me stir all the ingredients together using a wooden spoon!
Other sweet treats to try!

Homemade Crockpot Applesauce
The most flavorful, sweet, tangy Homemade Crockpot Applesauce out there. Only 3 wholesome ingredients that will leave the whole family wanting more.
Ingredients
5 to 6

apples

peeled, cored, and cut into chunks

½

cup

water

½

cup

light brown sugar

1

tbsp

cinnamon
Instructions
Peel, core, and chop your apples into chunks. Toss them into your crockpot.

Sprinkle on your light brown sugar and cinnamon. Add in the water and stir to evenly coat your apples.

Cook on low for 8 hours. Using your masher mash up the applesauce to your desired consistency.
Notes
How can my kids help?
Your kids can help make this entire recipe minus the coring part.  When I used to teach Kindergarten, we would make applesauce every year and this is how we did it 🙂 All students helped!