These grilled pesto chicken skewers are the perfect meal for Memorial Day Weekend!  I know this weekend isn't going to look like this holiday usually looks for us, but you can make it just as yummy and delicious!  When I think of Memorial Day Weekend I think summer is here!  Summer is  my favorite season by far!  I love the warm weather and absolutely do not enjoy being cold, at all!  When someone says beach I light up like a Christmas tree. 
Sitting on the beach with the sun shining on my face and eating all the yummy treats with a cold drink in hand is one of my favorite things to do.  I'll take summer over any season in a heartbeat.  Now that my day dreaming is over let's get down to business 😉  Summer is grilling season at the Schneider house!  We actually grill all year long believe it or not.  My husband does go out in the snow to grill burgers or chicken wings.  When it comes to summer time, though, our grill is basically on every night of the week!  Incoming, Grilled Pesto Chicken Skewers!
Homemade pesto or store-bought
I am one to cut corners when it comes to making dinners, especially with being pregnant and having 2 kids!  Lately, I do not have more than maybe 30 minutes to make a meal.  So, for today I store bought my pesto.  I have made my own pesto in the past and it is delish!  Here is the link to my homemade pesto.  Homemade Pesto! If you do not have the time or just don't feel like making your own pesto then here are some brands I recommend.  Clearly making your own is healthier because homemade won't have a preservatives, but sometimes we just don't have the extra time 😉
Wegman's Italian Classic Basil Pesto Sauce
              Delicious and Sons Organic Basil Pesto
Rao's Homemade Basil Pesto Sauce
Ingredients to make these chicken skewers
The ingredient list is minimal for these skewers.  The only ingredients you need are 1 cup of cherry tomatoes, 2 zucchini, 1 lb of bonelss, skinless chicken breasts, cut into 1 inch cubes, 1 cup of pre-made pesto, and kosher salt and ground black pepper to taste. 
For the zucchini, you will also need to cut up.  You can cut it up quartered or in half-moons.  If you are feeling fancy, try making them into ribbons.  You will also need skewers to thread the ingredients.  Here are some reusable skewers or you can buy the wooden ones that you toss after using.  Kabob Skewers Flat Metal BBQ Skewers!
How to make this dish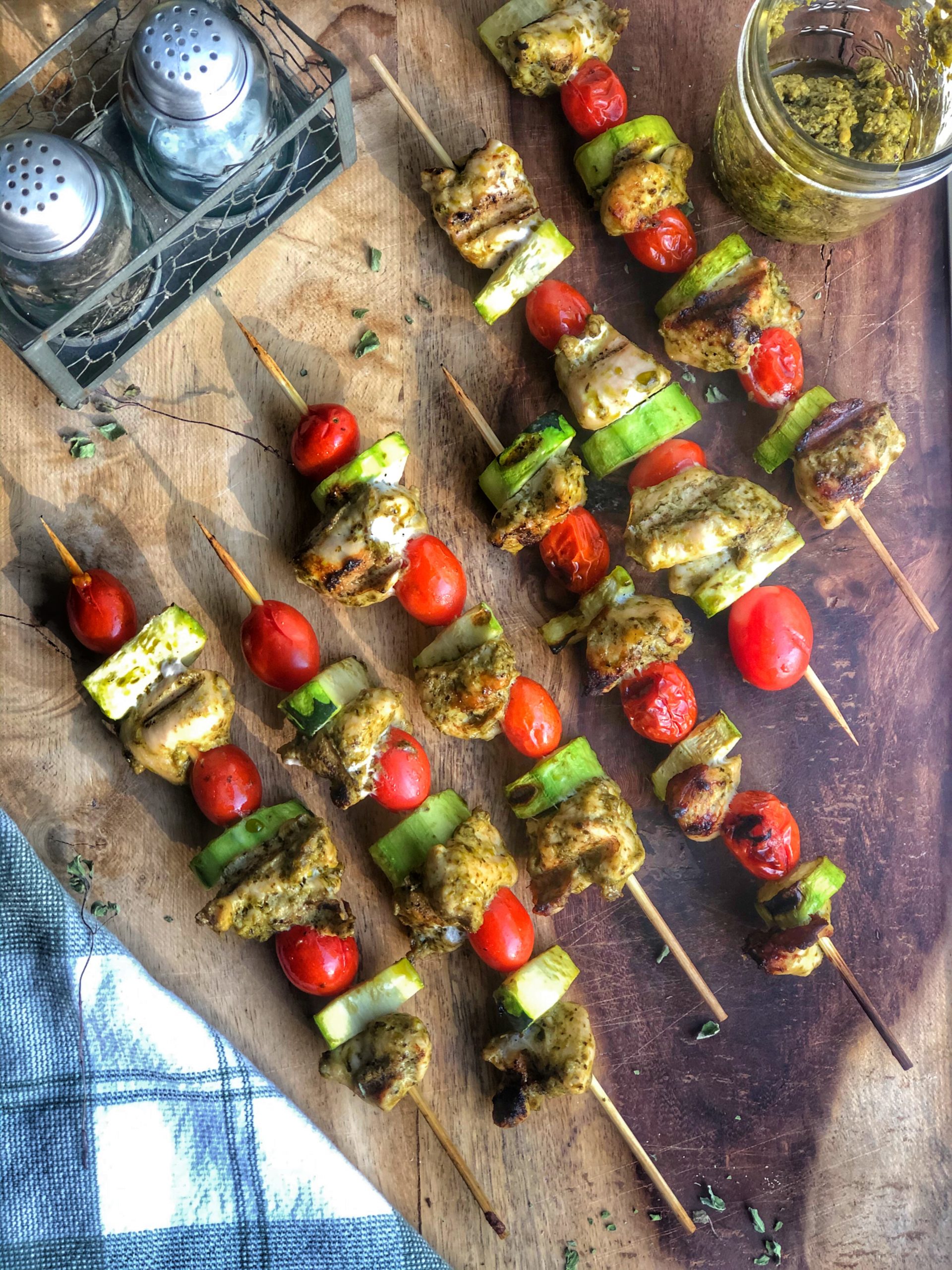 First, in a large resealable bag, combine chicken and ¾ cup pesto.  Meanwhile, slice the zucchini up however you prefer.  When chicken is done, remove it from the fridge and set up next to the sliced zucchini and tomatoes to make for an easy assembly.  Thread the cherry tomatoes, zucchini, then chicken onto the skewers. 
Repeat until skewer is filled!  Preheat grill to medium-high heat.  Add kebobs to grill, cook gently turning halfway through for about 10-12 minutes or until internal temp of the chicken reaches 165 ºF.  Remove from grill and season with salt and pepper to taste.  Finally, brush on additional pesto, if desired and serve immediately!
Grilled Pesto Chicken Skewers
Juicy grilled chicken complimented by seasoned zucchini and tomatoes served with a delicious pesto sauce!
Print
Pin
Rate
Equipment
skewers

grill

cutting board

paring knife
Ingredients
1

cup

cherry tomatoes

2

zucchini

skin off, and cut into quarters or halves

1

lb

boneless, skinless chicken breasts

cut into cubes

1

cup

pre-made pesto sauce

store bought or homemade

kosher salt

to taste

ground black pepper

to taste
Instructions
First, in a resealable bag add chicken and pesto sauce. Shake to coat chicken in pesto and let marinate in fridge for 1 hour.

Meanwhile, if using wooden skewers soak them in water for 5 minutes so they don't burn when you grill them.

To assemble, thread chicken, tomato, and zucchini down the skewer until it is filled. Repeat until all skewers are filled.

Pre-heat grill to medium-high heat. Add kabobs to grill cooking for 10 minutes. Turn over and grill for 5 more. Remove from grill and add more pesto if desired and sprinkle with salt and pepper.
Notes
What can my kids do?
Help shake up the bag once the pesto and chicken are inside.  Sprinkle with desired amount of salt and pepper at the end.  If brushing more pesto on, let them do that 🙂