One of my favorite things about Tuesdays 😉 Taco Tuesdays Ya'll! In the Schneider house Taco Tuesday is a staple. So, this week I changed it up and bade Ground Turkey Taco Cupcakes instead of just regular tacos. We are all very big fans of tacos and I gotta say the beginning of the week is always a drag, so when you throw some spice into it, like Tacos, your week just gets that much better. Even Taylor and Luke are fans! I am also one to only use ground turkey when I make my tacos.
I find beef to be very greasy and since I haven't had beef tacos in years , when I randomly do (because I'm at someone else's house and that's what they made and I don't want to be rude ;)) my stomach does not settle well, at all! Even my husband who loves his red meat is a fan of ground turkey tacos.
This recipe can easily be made as regular tacos too. So, if you aren't up for trying out the cupcake part, then just stick to what you know!
I never buy pre-made taco mix either. A few years back I started making my own with the spices I've had at home and that is the only way I will eat my tacos now. Anything packaged is processed and if I can find loop holes around not buying those packages I'm going to damn well do that 🙂 Especially, when it comes to feeding my children! Anything packaged is not for my family! I've added a picture to show you the spices I ALWAYS have on hand. I actually keep a magnetic notepad on my fridge and the minute I run out of any of them I write it on the notepad and that's where I begin my weekly food shopping list.
How to make homemade taco seasoning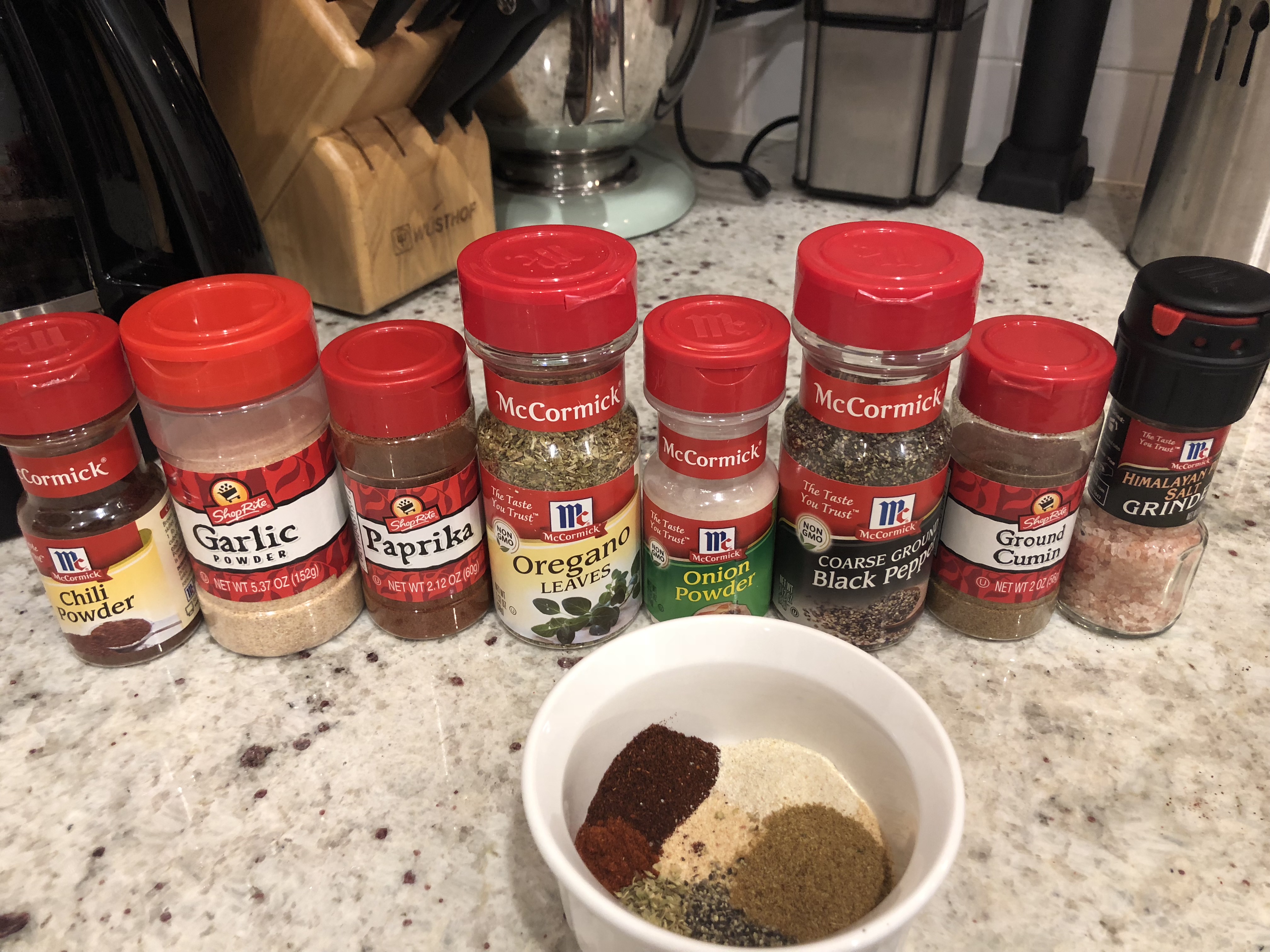 1 tsp garlic powder
▢1 tsp paprika
▢1 tsp oregano
▢1 tsp onion powder
▢1 tsp ground black pepper
▢1 tsp kosher salt
▢1 tsp chili powder
▢1 tbsp cumin
When it comes to the cumin that's a whole other story 🙂 I am a huge fan of this spice and I always over indulge when adding it. I start off with about 1 tbsp. and then gradually add more. When all is said and done I would say I almost use about ¼ cup of cumin. I think it's easy to say this spice is constantly on my shopping list and I am always looking to cut costs. So, recently I started buying Shoprite brand to save a bit and I gotta say I think it tastes pretty damn delicious!
I eat my tacos differently each week too. One of the ways is tacos cupcakes, but normally I have taco wraps and occasionally a taco salad. I usually have the taco salad as lunch the next day with my leftover. I've added the ingredients for both below!
Ingredients to make taco cupcakes
You will need all the spices above if you are making your own seasoning. You will also need corn tortillas as the bottom part of the cupcake taco. The rest of the ingredients are coconut or avocado cooking spray, 1 tbsp avocreduced-fat shredded taco blend cheese, 1 large tomato, chopped, one container of plain greek yogurt (substitute for sour cream) - literally tastes the same 🙂 you're welcome, and one package of ground turkey. You will obviously need a 12 cup muffin tin so I've linked one for you here if you need one. Rachael Ray Non-Stick 12 Cup Muffin Tin! You will also need a colander to drain the turkey.
How to make this meal
First, preheat oven to 350 °. Spray a 12 cup muffin tin with coconut or avocado cooking spray. Also, line a baking sheet with foil and spray with cooking spray, as well! Next, heat a cast iron skillet to medium heat. Add ground turkey and cook until browned. Drain ground turkey in a colander and return skillet. Add ¼ low-sodium beef broth and the homemade taco seasoning mix. (see above). Mix to combine. If you're serving on a wrap spoon ground turkey onto wrap with some cheese and tomatoes and a dollop of plain greek yogurt.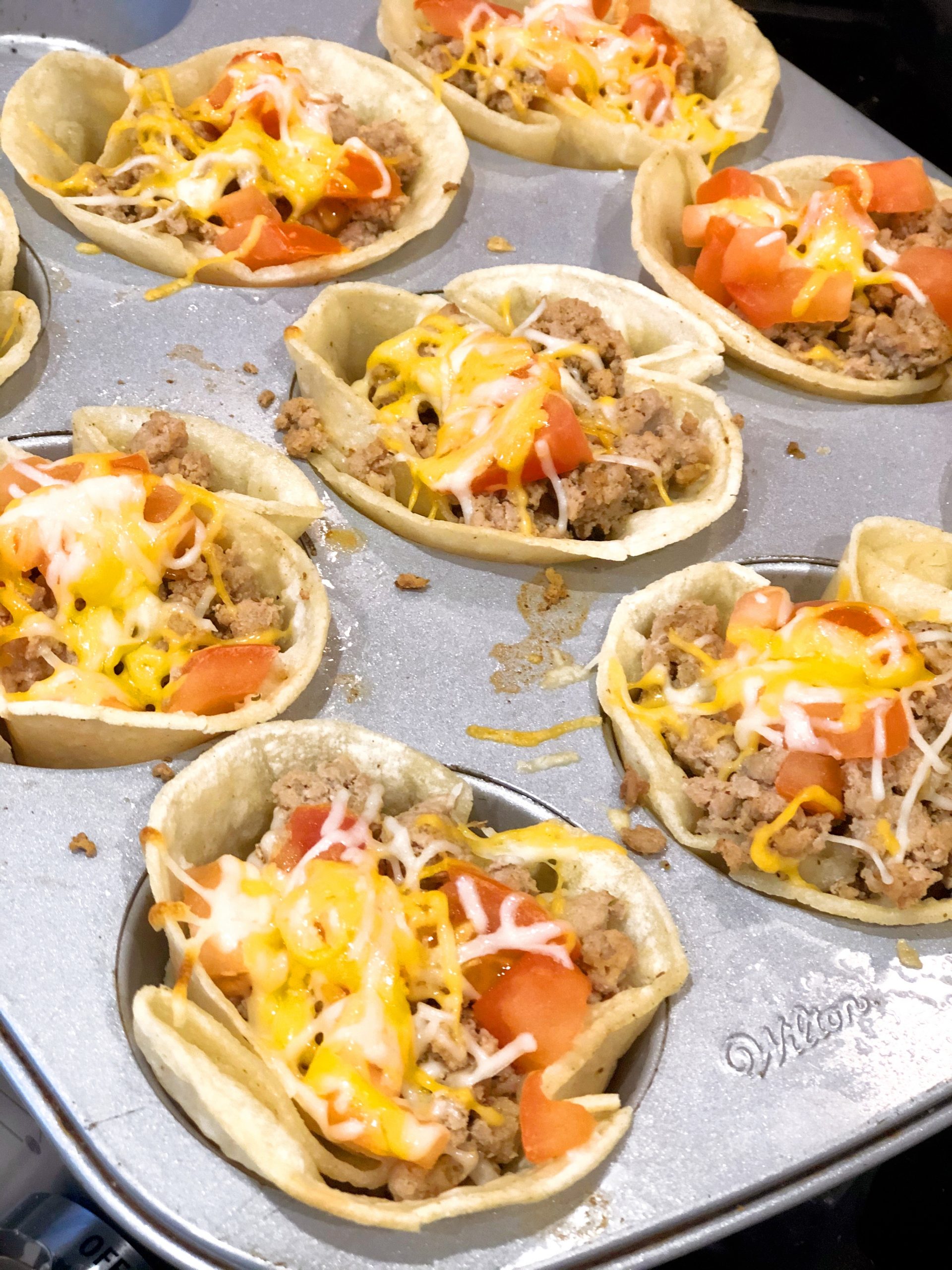 If you would prefer my taco cupcakes, while your ground turkey is cooking, you will make the bottom of the cupcake. The bottom is made with the corn tortillas. Brush each side of the tortilla with the avocado oil. Lay them on the prepared baking sheet lined with foil. Bake for 5 minutes. Remove from oven and slowly push each one into the prepared muffin tin. Bake for another 5 minutes to crisp them up. Once the ground turkey fill up the corn tortillas with the ground turkey and top with tomatoes and cheese. Put bake in oven for 1 to 2 more minutes to melt cheese. Remove and top with a dollop of sour cream on each.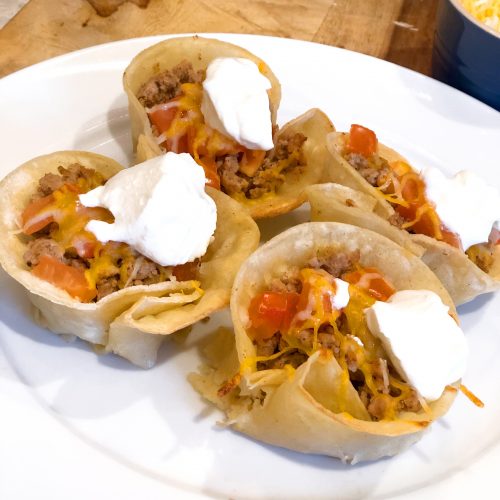 Ground Turkey Taco Cupcakes
A fun way to spice up Taco Tuesday! Same taste as tacos, but in a cupcake form!
Print
Pin
Rate
Equipment
baking sheet

12 cup muffin tin

colander
Ingredients
12

corn tortillas

avocado or coconut oil cooking spray

1

tbsp

avocado oil

½

cup

reduced fat shredded taco cheese blend

1

large

tomato

chopped

1

container

plain greek yogurt

sub for sour cream

¼

cup

low-sodium beef broth

⅓

cup

taco seasoning

recipe linked above
Instructions
Preheat oven to 350°. Spray a 12 cup muffin tin with cooking spray and set aside. Line a baking sheet with foil and also spray with cooking spray.

In a non-stick medium frying pan heat to medium-low heat and add ground turkey. Cook until browned. Drain and return to pan. Add broth and taco seasoning and mix to combine.

Meanwhile, lay corn tortillas on baking sheet and brush with oil. Bake for 5 minutes. Remove from oven and transfer to the muffin in pressing them down to form cupcake holders. Bake for 5 more minutes.

Remove from oven and fill each with ground turkey mix. Top with chopped tomato and cheese and place back in oven to 1 to 2 more minutes, until cheese is melted. Remove from oven and serve with a dollop of sour cream.
Notes
What can my kids do?
Measure out the taco seasonings and mix them to combine.