Chocolate Peanut Butter Balls have a crunchy, sweet, chocolatey goodness in each and every bite! The chocolate peanut butter combo with the oatmeal stickiness is exactly what you want for that, "One-Bite-Dessert!"
Jump to Recipe
Anyone else pack snacks in their bag when leaving the house? Guilty as charged! And I mean snacks for YOU, not for your kids 🙂 I can't leave the house without making sure I have at least one snack in my bag. These are the BEST snacks to take with you on-the-go. Just like my No Bake Energy Bites. Let me also say I have gained a sweet tooth during my last pregnancy and these chocolate peanut butter balls have definitely hit the spot. I mean they would hit any person's sweet tooth craving, but a pregnant woman means a lot 🙂 These balls also keep you full so you only need about 2, which will keep your bag lighter and yourself happier!
What are the healthiest ingredients to use for this recipe?
First of all, these bites are so easy to make and you only need 5 ingredients. Taylor helped me melt the peanut butter on the stove with the coconut oil and unsweetened cocoa powder. I recommend using natural peanut butter because natural peanut butter has zero trans fat. Regular peanut butter also has more saturated fat than natural peanut butter does. The healthiest cocoa powder I found to use is Hershey's natural unsweetened cocoa powder, which is 100% cacao and has 0 grams of sodium, 0 grams of saturated fat, and 0 grams of total sugars. I also recommend using old fashioned oats. I feel like they stick better together and you can also use them for overnight oats so you don't waste any food.
What do you need to make chocolate peanut butter balls?
*This post contains affiliate links. As an Amazon associate I earn from qualifying purchases.
These balls only use 5 ingredients! That's it! You will need the following ingredients:
Some other ingredients you can mix in are:
If you decide to add these into your chocolate balls, I would add about 1/4 cup!
whole semi-sweet dark chocolate chips
walnuts, chopped
almonds, chopped
pistachios, chopped
raisins
granola clusters
chopped almonds
chia seeds
flax seeds
unsweetened coconut flakes
chopped up berries like strawberries, blueberries, raspberries, blackberries
protein powder
quinoa
dates, diced
How do you make this delicious treat?
This dessert/snack is pretty easy to whip up, if you ask me. (Step 1) You start off by heating up your peanut butter, coconut oil, and cocoa powder in a large saucepan over medium heat. I am a big fan of Cuisinart. Most of my pots and pans are from Cuisinart. I've linked one here Cuisinart Nonstick Saucepan.
(Step 2) Next, remove the melted ingredients from the heat and add in your pure honey. Mix that until well combine and then stir in your oats. This is where you will add in any other ingredients you desire. (Step 3) Transfer the mixture to a medium sized mixing bowl and cover with plastic wrap. Put in fridge for 30 minutes. Once chilled remove from fridge and using clean hands roll mixture into little balls and place on a plate covered with parchment paper. This is where I decided to melt the dark chocolate semi-sweet chips and drizzle the chocolate on top. Finally I drizzled the melted chocolate on top of the peanut butter balls and placed them in the fridge for 1 hour before eating.
Tips and FAQ's
How many calories does one bite have? Each bite only has 97 calories!
Storing the balls - in an airtight container in the fridge for up to 7 days! Or in the freezer for up to 3 months.
Melting the chocolate chips - To melt the chips I mixed about 1/2 cup of them with 1 tsp of coconut oil in a microwave safe bowl and microwave them in 30 second increments. Pour over formed chocolate balls before storing back in fridge for 1 hour.
How can my kids help?
Carefully guide them while stirring the cocoa powder, honey, and peanut butter in the saucepan.
Teach them how to roll the balls. Scoop out a tablespoon of mixture after it has been in the fridge and place it in between your palms. Roll your palms around in a circular motion until the ball is formed.
Practice measuring out the ingredients. This is a perfect math lesson 😉
Need a kid friendly cooking kit? I bought this set for my daughter Taylor a few years ago and I LOVE it! The Curious Chef - $79.99
Other dessert recipes you might also enjoy!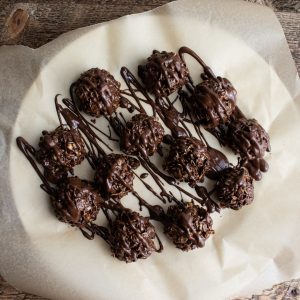 Chocolate Peanut Butter Balls (Healthy)
Chocolatey, Peanut Buttery, Crunchy, Healthy, Satisfying Bites!
Equipment
saucepan

small mixing bowl

parchment paper

microwave safe bowl (optional)
Ingredients
1

cup

natural peanut butter

⅓

cup

melted coconut oil

⅓

cup

unsweetened cocoa powder

⅓

cup

pure honey

2

cups

old fashioned oats

½

cup

melted dark chocolate chips

optional

1

tsp

coconut oil

if using melted chocolate chips
Instructions
In a large saucepan, heat peanut butter, coconut oil, and cocoa powder over medium heat.

Once melted, remove from heat and add honey.

Stir in oats and mix until well combined. Transfer mixture to a small mixing bowl and cover with plastic wrap. Chill in fridge for 30 minutes.

Remove from fridge and using clean hands roll 1 inch balls with the mixture and place on a plate covered in parchment paper.

Drizzle with melted chocolate if desired. To melt chocolate, mix ½ cup dark chocolate chips in a microwave safe bowl with 1 tsp coconut oil. Microwave in 30 second increments. Stir until completely melted and well combined.

Place bake in fridge for 1 hour.
Notes
How can my kids help?  Help your child melt the peanut butter, coconut oil, and cocoa powder on the stove supervising very closely.  Let them drizzle the chocolate on at the end 😉
Store in an airtight container for up to 1 week! 
When hungry grab from fridge and pop in mouth 🙂