These quinoa veggie patties are delicious and any vegetarians dream! With their crispy outside and hearty, cheesy, flavorful inside you might just be making these weekly! I know I will!
Jump to Recipe
First of all, the taste of these Quinoa Veggie Patties are beyond amazing! There is a burst of flavor that is savory and satisfying. They are healthy and they have the best ingredient I believe you can add to any meal and that is cheese. You can really use any cheese that you desire. Just make sure it's shredded because it will be easier to mix in. This way when you form the patties the cheese will be evenly distributed. If you are in the hunt for more quinoa recipes, definitely try my Buffalo Quinoa Bites or my Oatmeal Quinoa Breakfast Bites.
So, these patties would be perfect as an appetizer for a party or even as a side dish for your family dinners or even quinoa patties for baby. My daughter is one and she devoured them 🙂 The mixing of the ingredients does not take long, but once you form the patties and start to cook them, it takes about 10 minutes per side to crisp up. You really want them to be crispy otherwise they might fall apart.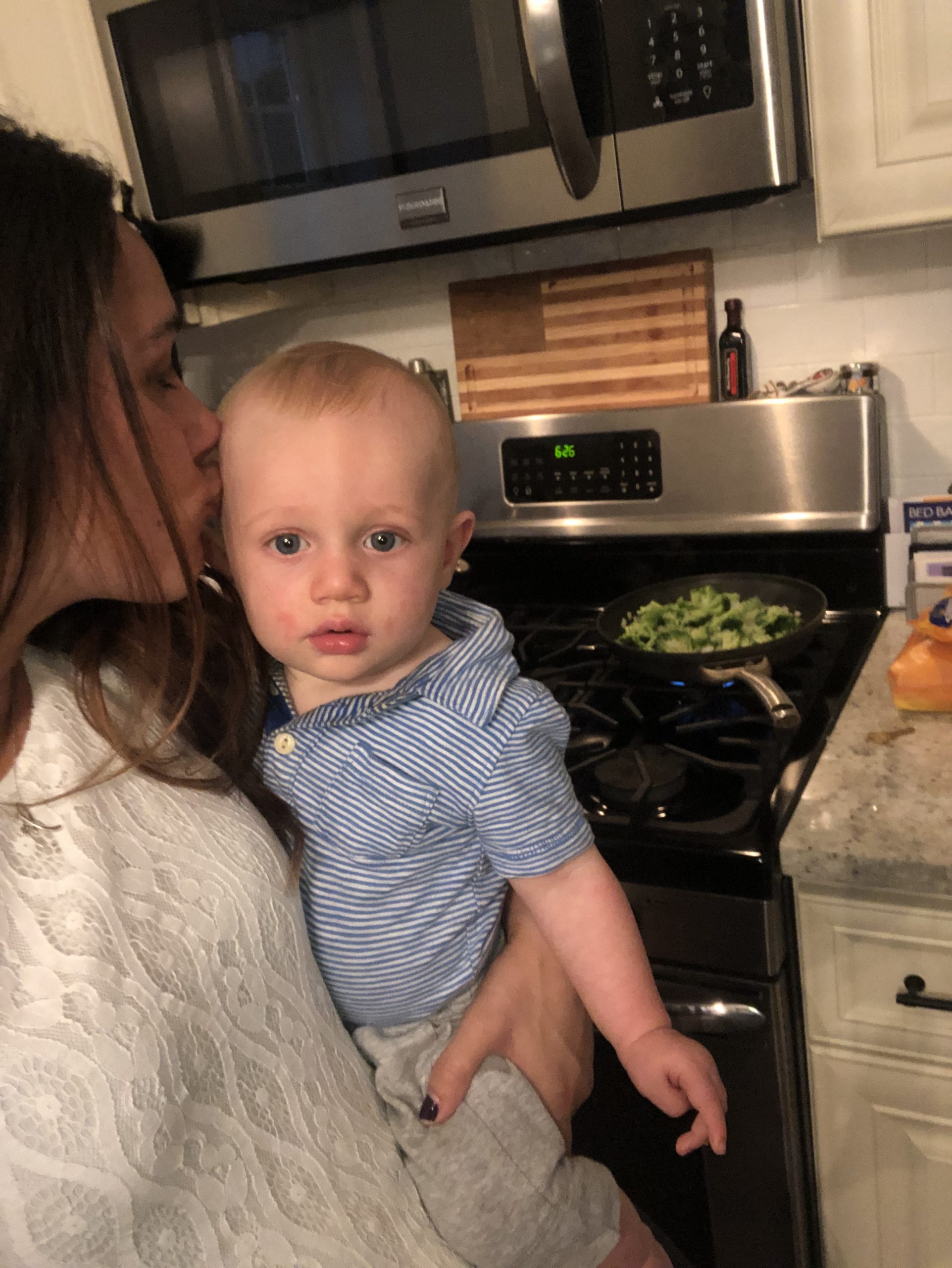 I'm also a huge advocate for cooking with your kids! My little partner in crime, Taylor my daughter, was MIA while I was making these patties. So, whose next in line, but my little man Luke. I was basically just holding him while cooking the ingredients, but he seemed to be enjoying it!
What do you need to make these patties!
*This post contains affiliate links. As an Amazon associate I earn from qualifying purchases.
For this recipe I have picture below the ingredients I used.
1/2 cup quinoa
1 cup water
5 large broccoli florets
1 small onion, diced
1/4 cup whole wheat breadcrumbs - or panko breadcrumbs
1/4 cup shredded cheese - I used reduced fat Colby-Jack, but you can use any kind you prefer
2 large eggs- whisked
kosher salt and pepper - to taste
1 tbsp garlic powder
avocado oil - you will continuously add more in between each set of patties because you do not want them to stick. Pour enough to coat the pan, about 1 tbsp between each set.
Check out my Zucchini Parmesan if you are wondering why I prefer avocado oil over olive oil when pan frying!
How do you make this meal?
It's pretty easy to make these quinoa veggie patties. First, cook your quinoa according to the directions on the packaging. Once the quinoa is done put it in a medium sized mixing bowl and set aside.
(Step 1) Next, add 1 tbsp of oil and sauté your diced onion until it's soft and translucent. Once cooked, add it to the bowl with the quinoa. (Step 2) In the same pan, add 1 tbsp of oil and cook your broccoli until it has softened a little bit. Transfer to a cutting board or use a Hand Blender and dice up your broccoli. Then, add it to the same mixing bowl.
(Step 3) Now that you have everything ready, in a mixing bowl, add the remaining ingredients and mix all together, leaving the eggs until the end. Mix well so you have a smooth, wet mixture that allows you to make patties that will stick together.
(Step 4) Heat 1 tbsp of oil in a griddle pan, and make your patties. I advise using a griddle pan because you can fit more patties on it at once. I made each using 1/4 cup of the mixture. Form a ball using your hands then using a spatula, flatten it down until it forms a patty. Cook each patty for about 7 - 8 minutes on each side on medium heat. You want the patty to develop a crust, but not to burn, so watch them carefully. Let cool for a couple minutes before eating!
Tips and FAQ's
When cooking your patties add more oil in between batches to make sure they do not stick to the pan. Add about 1 tbsp between each set of patties.
Scoop out about 1/4 cup to form each pattie. You don't want them to be too big or they might fall apart when you eat them.
Storing your patties - Store them in an airtight container for up to 3 days in the fridge or after cooling store them in a freezer bag and they will last up to 6 months in the freezer.
What can I serve with my patties?
When serving this dish you can either serve it as an appetizer for a party or even with your own family! My youngest daughter is only one and she devoured these as her lunch one day, which is also an option if you've also got a youngster at home. You can eat them as is paired with some sliced avocado. Or, you can serve this as a side dish to one of the following dinners.
Are you a dipper?
I know sometimes I'm just in the mood for some dipping action. These patties can also be dipped into some savory sauce if you desire. Here are some dips that I found to pair very nicely with these patties.
Tessemae's Organic Classic Ranch - $5.99 - my favorite all-time dressing for salad or to dip everything and anything in. The taste of this ranch is unlike any other I've ever had.
Tessemae's Ranch Variety Pack (Avocado Ranch, Everything Bagel Ranch, Creamy Ranch, Habanero Ranch) - $35.00 - If you are interested Tessemae's has a variety pack of four of their ranch dressings. Either flavor would be amazing with these patties.
Good Food For Good Organic BBQ Sauce - $6.99 - my mouth is salivating thinking about this combo. BBQ sauce!!!!!!!
Simply Organic Gluten-Free French Onion Dip - $8.98 - you can never go wrong with a classic onion dip. Instead of mixing this pack into some mayo, add it to some plain greek yogurt for a healthier twist.
Other quinoa recipes to try!
Quinoa Veggie Patties
Flavorful patties that are made super crispy and filled with cheese and broccoli!
Equipment
hand blender

griddle pan

spatula
Ingredients
½

cup

quinoa

1

cup

water

5

large

broccoli florets

chopped

1

small

onion

diced

¼

cup

whole wheat breadcrumbs or panko

1

cup

shredded cheese

2

large

eggs

kosher salt

to taste

ground black pepper

to taste

1

tbsp

garlic powder

3

tbsp

avocado oil

divided evenly and more used if needed
Instructions
Cook quinoa according to package directions. I cooked my quinoa with 1 cup of water.  Let it come to a boil, then simmer covered for about 15 minutes.  Once the quinoa has absorbed all the water put it in a medium sized mixing bowl.

In a large pan add 1 tbsp oil. Saute, onion until soft and translucent. Then, add it to the bowl with the cooked quinoa. Add another tbsp of oil to the same pan and saute your broccoli until it becomes softened, remove from pan and dice using either a hand blender or a cutting board and paring knife. Add to same bowl with quinoa and onion.

In the bowl with the quinoa mixture add the remaining ingredients and mix all together. Leave the eggs for last. Season with salt and pepper to your liking.

Heat remaining oil in griddle or wide pan and using a spoon scoop out a handful of quinoa mixture at a time, about ¼ cup. Roll into a ball using hands and place on heated pan. Using a spatula flatten the ball until it forms a patty. Cook each patty for about 7-8 minutes on each side on medium heat. You want the patty to develop a crust, but not burn. Remove from heat and let cool for a couple minutes before eating.

Serve as a side dish or as your main meal. Dip in a sauce or eat as is 🙂
Notes
How can my kids help?  Kids love to get dirty.  Have them help mix everything together using clean hands.  Teach them how to measure out all the ingredients.  Fun math lesson!