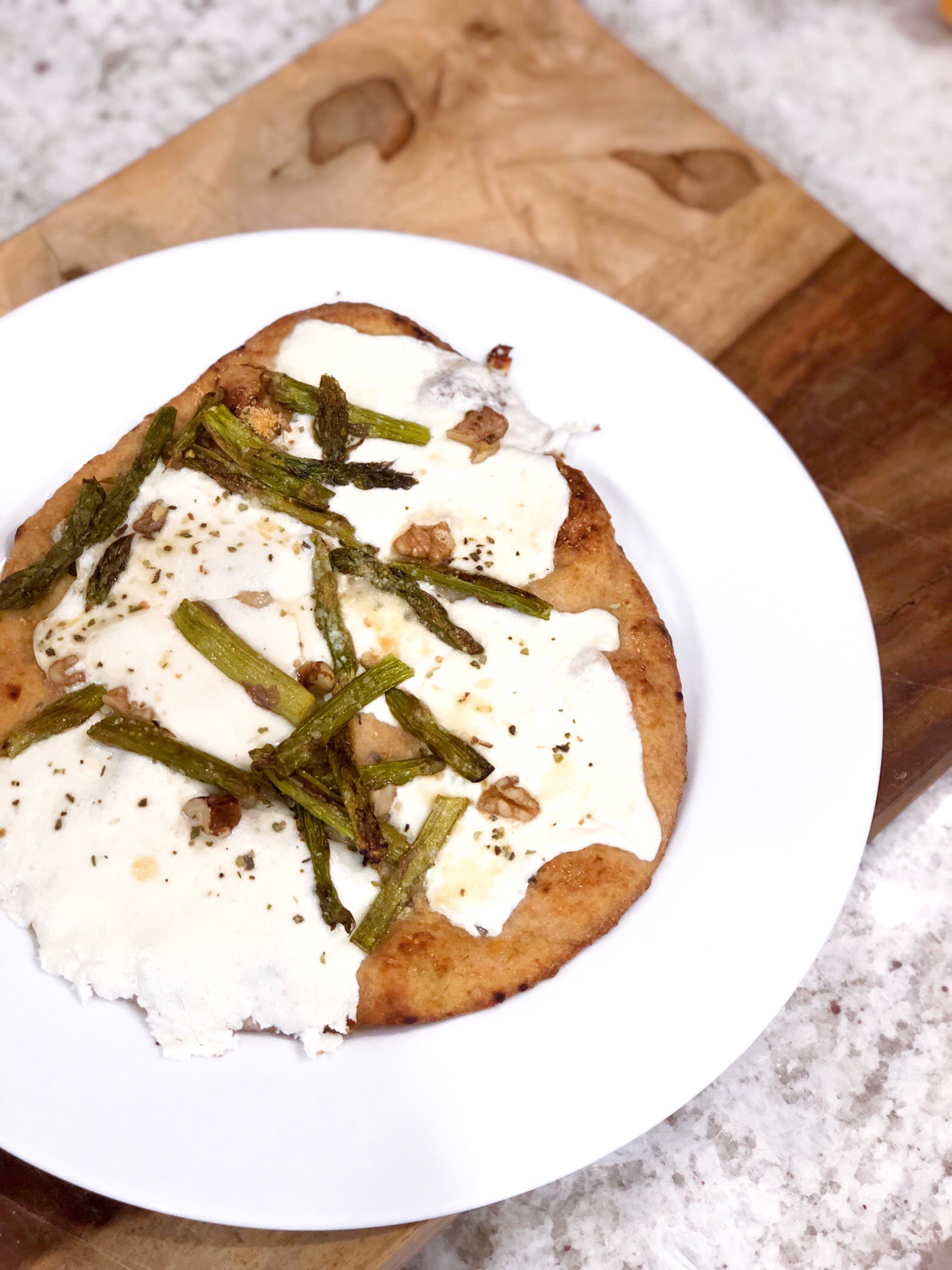 You guys this asparagus and mozzarella naan pizza is probably one of my all time favorite Naan concoctions to date.  That is a strong statement for me to make, but I 100% have to say it is a true fact.  Okay okay so asparagus on pizza sounds gross!  Yes, that is something I will agree with, but you cannot knock it until you try it.  The way the asparagus is made compliments the combination of ingredients to perfection! 
Eric, my husband, is a stickler when it comes to his pizza.  I didn't even bother asking him to try this recipe because I just assumed he'd say no when I listed the ingredients for him.  This is something he always does.  He asks me what is in the recipe and if he decides it doesn't sound appealing to him then he doesn't usually give it a chance.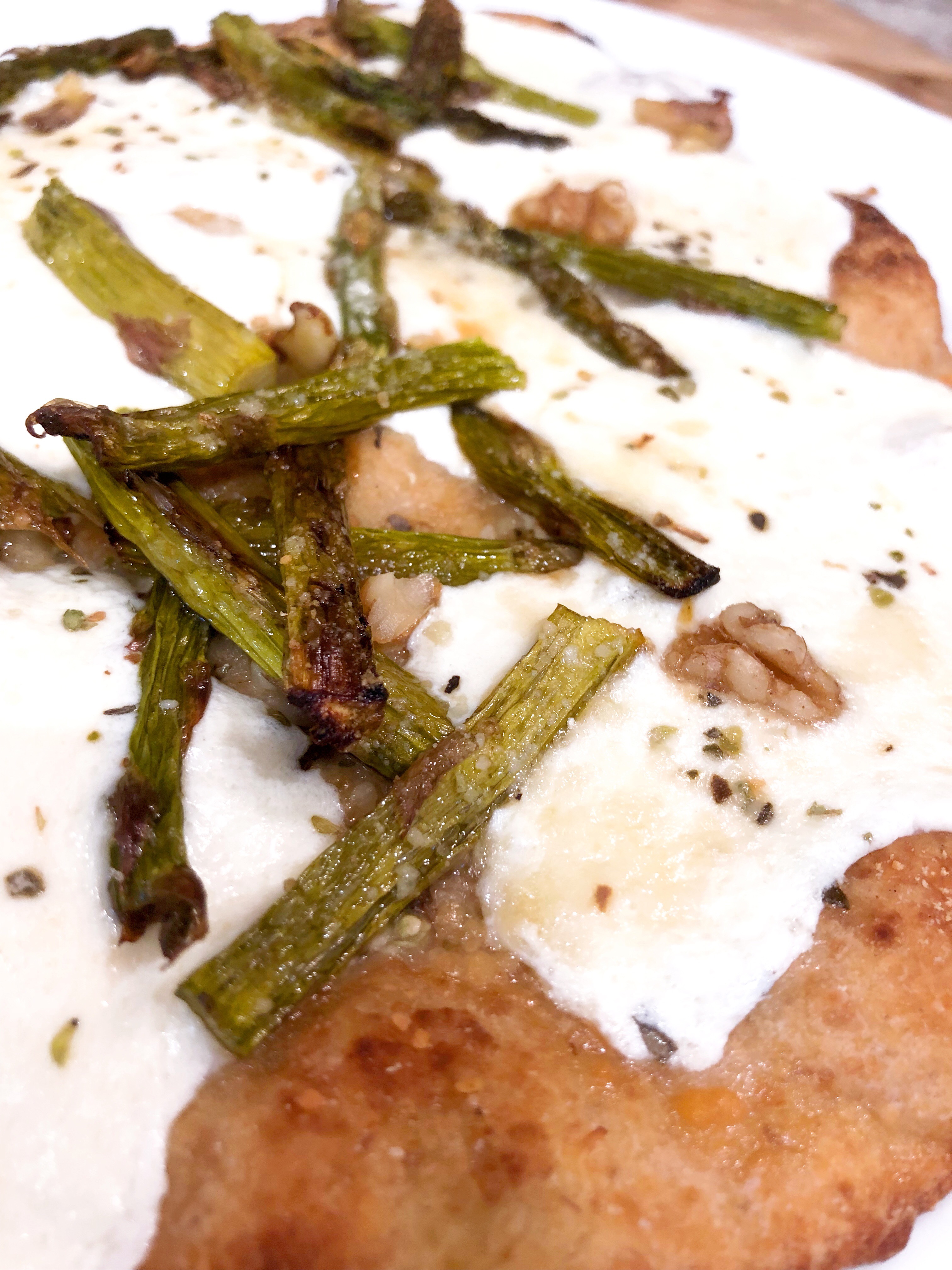 So, I put the leftovers in the fridge when he wasn't home and did not even bother to let him know. When he came home later that night I was already in bed. He took it upon himself to ransack the fridge and he found my leftover Naan pizzas and ate a ton. Later, when he came to bed, he just had to wake me up to tell me how much he loved those Naan pizzas. He went on and on to continue complimenting them. Then, finally he asked the golden question, "How did you make them?"
How to make this pizza dish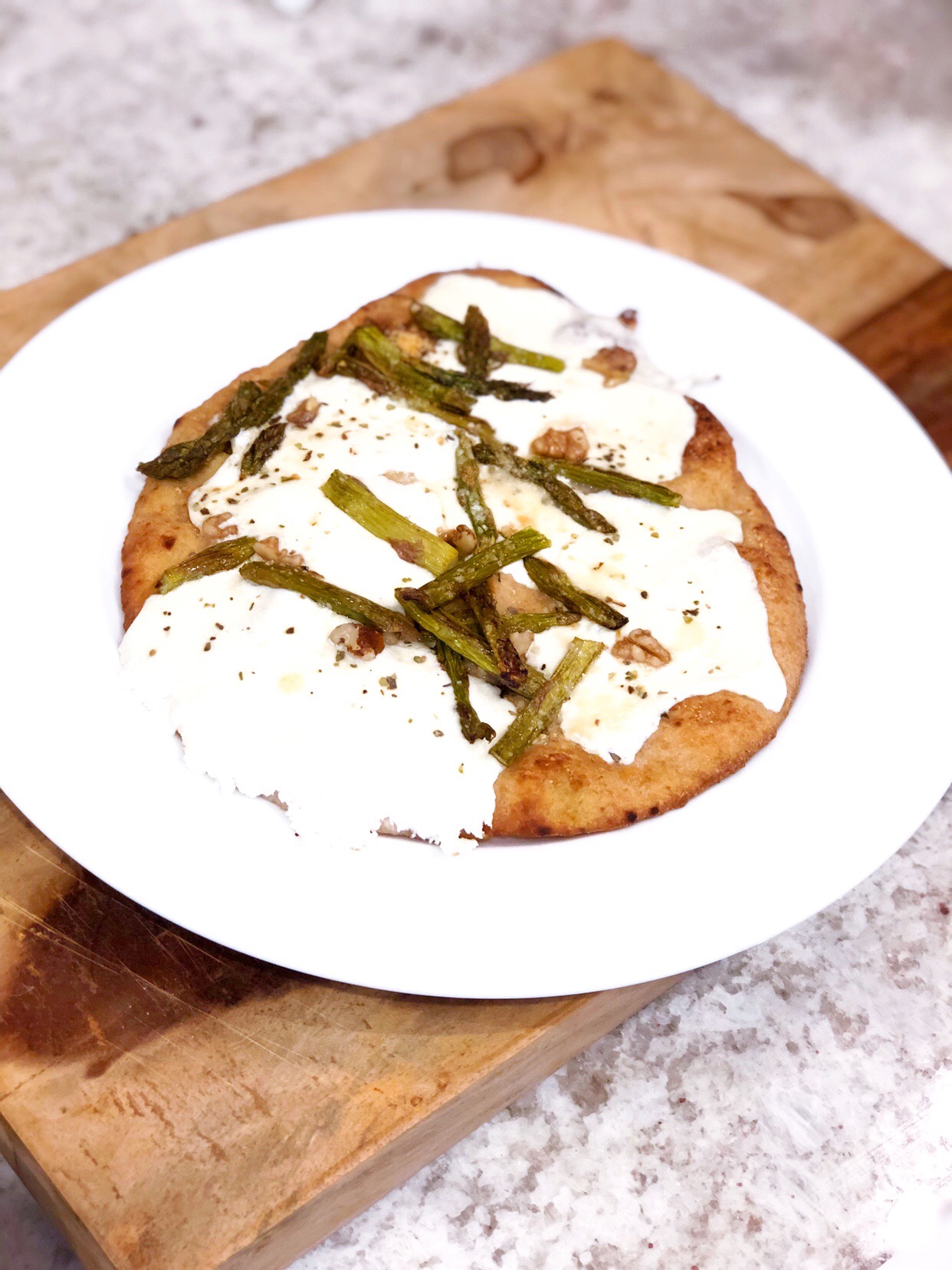 Preheat the broiler to 500°F.  Line a large baking sheet with parchment paper.  Toss 12 ounces of thin asparagus, trimmed and cut into 1-inch pieces, onto a baking sheet with 1 tbsp. of olive oil.  Sprinkle with 1 tbsp. of kosher salt.  Broil for 3 minutes.  Place whole wheat Naan pizza breads on another baking sheet sprayed with coconut cooking spray. 
Place slices of reduced fat fresh mozzarella on top.  Scatter the cooked asparagus on top of the mozzarella and season with 1 tsp. garlic powder, ½ tsp. kosher salt, 1 tbsp. chopped walnuts and 1 tsp. ground black pepper.  Set oven to 400 ºF and cook for 10 to 12 minutes so until Naan bread is crispy on the bottom.  It's like an asparagus pizza 🙂
What do you need to make this dish
First of all, when I first decided to give Naan bread a try I couldn't find it anywhere.  I live in Jersey and the closest supermarket to my house is Shop Rite. A fun fact I found out about Naan bread is found in the cuisines mainly of West Asia, Central Asia, Southeast Asia, the Indian subcontinent, and the Caribbean. 
Click here for Naan bread.  I have also perfected what to bake the Naan on.  The pizza pans that come with the holes in them are my favorite to use.  Especially for Naan because it doesn't stick to the pan.  Usually I will spray the pan with coconut cooking oil, but here and there I've forgotten because I was in a rush and the pizza still didn't stick.  They are also dishwasher safe, which makes clean up that much easier.  Click here for the pizza pan with the holes in it.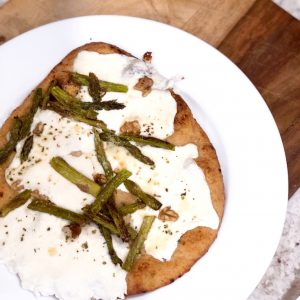 Asparagus and Mozzarella Naan Pizza
The most flavorful Naan combo of ingredients you will find!
Print
Pin
Rate
Ingredients
4

pieces

whole wheat naan bread

12

ounces

thin asparagus

trimmed and cut into 1-inch pieces

1

tbsp

extra virgin olive oil

3

tbsp

kosher salt

divided evenly amongst each pizza and asparagus

2

cup

reduced fat mozzarella

sliced into pieces

4

tbsp

chopped walnuts

2

tbsp

garlic powder

2

tbsp

ground black pepper

coconut cooking spray
Instructions
Preheat broiler to 500 degrees F. Line a large baking sheet with parchment paper. Toss asparagus with 1 tbsp. olive oil and 1 tbsp. salt. Bake for 3 minutes.

Place 4 pieces of Naan bread onto 2 other baking sheets sprayed with coconut cooking spray. Divide cheese evenly between the pizzas. Scatter the asparagus on top of each along with the walnuts. Season each with garlic powder, ground black pepper, and kosher salt.

Set oven to 400 degrees F. and bake the pizzas for 10 to 12 minutes each.